AloeDent Pro Sensitive Enamel & Cavity Protection
---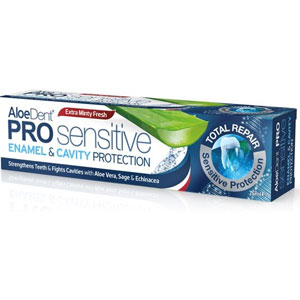 AloeDent
Pro Sensitive Enamel & Cavity Protection
75ml tube
£4.75
Sorry, out of stock
Catalog ref: AD-2012
Key Info
Total repair.
Sensitive protection.
Extra minty fresh.
Strengthens & fight cavities.
With aloe vera, sage & echinacea.
Description
Flouride toothpaste with aloe vera plus sage & echinacea to strengthen teeth & fight cavities.
AloeDent Pro Sensitive Enamel & Cavity Protection is a breakthrough in Aloe Vera toothpaste. This advanced formulation of natural botanical extracts and scientifically balanced potassium salts helps to prevent cavities and protects against sensitivity, while the naturally strong flavour leaves the mouth feeling minty fresh.
Regular brushing helps to prevent cavities, plaque, tartar and gum problems.
Includes
Aloe Vera - helps soothes gums
Tea Tree Oil - natural antiseptic
Silica - for natural whitening
Stevia - natural sweetener
Potassium nitrate - for sensitive teeth
Potassium citrate - for sensitivity
Sage - soothing & cleansing
Echinacea & Eschin - help keep gums healthy
Peppermint & Menthol - natural flavour
To Use
Brush twice daily for healthy teeth and gums.
Related Product
To give your mouth that thoroughly clean sensation why not try AloeDent Alcohol Free Mouthwash?
Ingredients