AloeDent Aloe Vera Lip Balm Multi-Action
---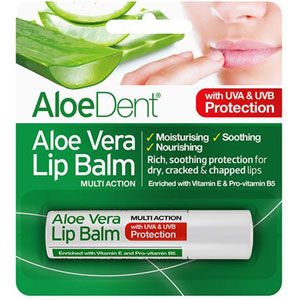 AloeDent
Aloe Vera Lip Balm Multi-Action
4g stick
£2.95 was £3.69 (save 20%)
Add to Basket
Catalog ref: AD-1186
Key Info
With UVA/UVB protection.
Moisturising, Soothing, Nourishing.
Rich, soothing protection for dry, cracked & chapped lips.
Enriched with Vitamin E & Pro-vitamin B5.
Description
Formulated with Aloe Vera Gel to soothe and moisturise the lips.
Contains Lysine, an essential Amino Acid, to promote healthy lips, antiseptic tea tree and menthol and added UVA/UVB protection from the sun's harmful rays.
Medicated formula with Tea Tree and Menthol. Enriched with Vitamin E and Vitamin B5.
Includes
Castor oil
Jojoba oil
Candelilla wax
Beeswax
Carnauba wax
Vitamin E
Pro-Vitamin B5
Lysine amino acid
Titanium Dioxide
Aloe Vera
Menthol
Tea Tree oil
Ingredients