AloeDent Triple Action Aloe Vera Fluoride Free Toothpaste
---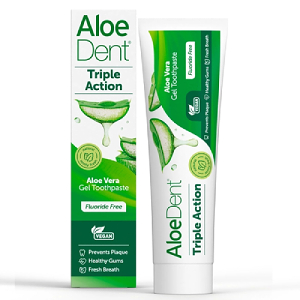 AloeDent
Triple Action Aloe Vera Fluoride Free Toothpaste
100ml tube
£3.99 was £4.99 (save 20%)
Add to Basket
Catalog ref: AD-1565
Key Info
Aloe vera plus tea tree for natural protection.
Fights bacteria. Healthy gums. Fresh breath.
Cool minty freshness.
Original formulation.
Description
More than just a brush with nature.
AloeDent have added some of nature's most trusted ingredients to their formulations including Aloe Vera alongside Tea Tree Oil which helps in the fight against bacteria. So you can be sure you are getting all the benefits of a toothpaste, but with natural ingredients that really work, every time you brush.
Reqular brushing helps prevent cavities, plaque, tartar, gum problems.
Includes
Aloe Vera - helps soothe gums
Tea Tree Oil - natural antiseptic
Silica - for natural whitening
Co Q10 - helps keep gums healthy
Peppermint & Menthol - natural flavour
Free From
Fluoride and SLS free.
Flavour
Fantastic natural minty flavour.
To Use
Brush twice daily for healthy teeth and gums.
Ingredients