AloeDent Aloe Vera Mouthwash
---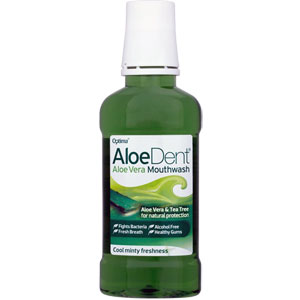 AloeDent
Aloe Vera Mouthwash
250ml bottle
£3.99 was £4.99 (save 20%)
Add to Basket
Catalog ref: AD-1676
Key Info
Aloe vera & tea tree for natural protection.
Fights bacteria. Alcohol free.
Fresh breath. Healthy gums.
Cool minty freshness.
Description
Alcohol free and flouride free with a fantastic natural minty flavour.
Regular brushing with AloeDent toothpaste and using AloeDent mouthwash may help reduce cavities, tartar, plaque, bad breath.
Includes
Aloe Vera - helps soothe gums
Tea Tree Oil - antiseptic
Peppermint Oil / Menthol - natural flavour
Flavour
Fantastic natural minty flavour.
To Use
Fill cap, rinse around mouth thoroughly and spit out.
Ingredients