AloeDent Fresh Breath Therapy
---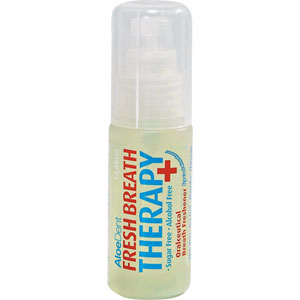 AloeDent
Fresh Breath Therapy
30ml spray
£3.75 was £4.69 (save 20%)
Add to Basket
Catalog ref: AD-328
Key Info
Oralceutrical breath freshener.
With aloe vera, tea tree, manuka and chitosan.
Sugar free. Alcohol free.
Icy cool mint flavour.
Description
Combining the numerous benefits of Aloe Vera with a powerful blend of carefully selected natural active ingredients including Tea Tree and Peppermint for a healthy mouth and day long fresh breath.
The unique combination of Aloe Vera, Tea Tree Oil, Manuka Honey, Chitosan, Grapefruit, Peppermint and Menthol helps to protect against the build up of Bacteria, the principle cause of Cavities, Plaque, Tartar, Gum Disease, Bad Breath and Discolouration.
Provides a natural burst of mint flavour which leaves the mouth totally fresh.
Free From
Sugar, Alcohol.
Flavour
Icy cool mint.
To Use
Pull off cap, spray directly into mouth. Use as required.
Ingredients