AloeDent Aloe Vera Triple Action Coconut Toothpaste
---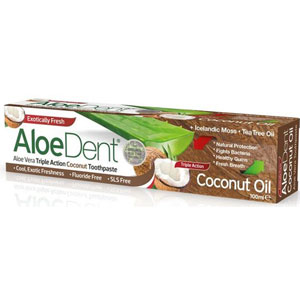 AloeDent
Aloe Vera Triple Action Coconut Toothpaste
100ml tube
£4.75
Sorry, out of stock
Catalog ref: AD-2009
Key Info
Coconut oil.
Exotically fresh.
With icelandic moss & tea tree oil.
Cool exotic freshness.
Flouride free, SLS free.
Description
Aloe Dent have added some of nature's most trusted ingredients including soothing Aloe Vera, Coconut Oil, Icelandic Moss and Tea Tree Oil which help protect your teeth.
You can be sure that you are getting all the benefits of a fluoride-free toothpaste, rich in natural ingredients that really work, every time you brush.
Benefits
- Natural protection
- Fights bacteria
- Healthy gums
- Fresh breath
Includes
Aloe Vera - helps soothe gums
Tea Tree Oil - natural antiseptic
Silica - for natural whitening
Stevia - natural sweetener
Horse Chestnut - natural anti-inflammatory
Coconut Ol - naturally cleans and freshens
Menthol - natural flavour
To Use
Brush twice daily for healthy teeth and gums.
Ingredients
Related Product
To give your mouth that thoroughly clean sensation why not try AloeDent Alcohol Free Mouthwash?