Jason Total Mouth Care Cool Mint Mouthwash
---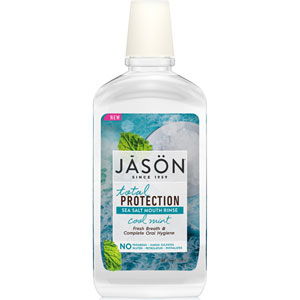 Jason
Total Mouth Care Cool Mint Mouthwash
473ml bottle
£9.99
Add to Basket
Catalog ref: JS-440
Key Info
Fresh breath & complete oral hygiene.
Cool Mint.
Description
Combining Dead Sea Salt with our tried-and-true blend of natural extracts, our new Sea Salt Mouth Rinse helps you care for your whole mouth. The gentle formula not only helps neutralize the sugars that can cause cavities, but it also helps to fight the build-up of bacteria that cause bad breath. Witch Hazel helps to soothe irritated gums and Glycerin helps relieve the symptoms of dry mouth. Peppermint Oil leaves your mouth feeling cool and fresh. Your mouth is healthy and happy….
Includes
Sea Salt
Peppermint Oil
Green Tea Extract
Witch Hazel Extract
Sage Leaf Extract
Menthol
Free From
Parabens, petrochemicals, colourants, flavourings, SLS/SLES, gluten, sugars.
To Use
After brushing, rinse mouth or gargle for 20-30 seconds and spit out.
Do not swallow.
Use at least twice a day.
Consult a dentist or physician prior to use with children under 2.
Ingredients