Jason Sea Fresh Antiplaque Strengthening Toothpaste
---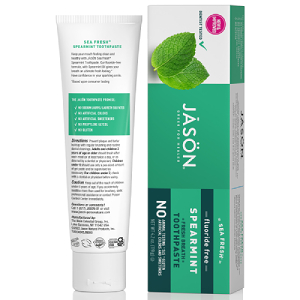 Jason
Sea Fresh Antiplaque Strengthening Toothpaste
170g tube
£7.49
Add to Basket
Catalog ref: JS-423
Key Info
Description
Features Blue Green Algae (Aphanizomenon Flos-Aquae), rich in Calcium, proteins and antioxidants, to naturally strengthen your teeth and gums and potent Spearmint and Parsley Extracts to keep your breath fresh and clean.
The exclusive blend of natural polishers and stain-fighting botanicals includes Bamboo Powder, Calcium Carbonate and Silica to help prevent tartar build-up while gently brightening your smile.
For a strong smile and fresh breath, use Jason Sea Fresh toothpaste and mouthwash twice a day.
Benefits
Healthy teeth & gums
Tartar control
Fresh breath
Whitening.
Includes
No Fluoride - Great Taste - Deep Sea Peppermint.
Organic aloe vera leaf gel
Bamboo stem powder
Parsley extract
Perilla seed extract
Grapefruit seed extract
Organic blue green algae
Spearmint
Carrageenan
Free From
Fluoride, Gluten, SLS/SLES, Preservatives, Artificial Colors, Artificial Sweeteners, Saccharin, Propylene Glycol.
To Use
Adults and children 2 years of age and older:
Brush teeth thoroughly, preferably after each meal, or at least twice a day, or as directed by a dentist or physician.
Instruct children under 6 years of age in good brushing and rinsing habits (to minimising swallowing).
Supervise children as necessary until capable of using without supervision.
Children Under 6: Use a pea sized amount.
Children Under 2: Consult a dentist or physician.
Ingredients
---
Product Comments & Customer Reviews
" Brilliant, foams up well, good fresh flavour and removes staining. Lasts for ages because you only need a pea size amount. I love it, will not be changing my toothpaste from this kind " LB, Kirkcaldy
" A perfect pick for a healthy toothpaste! " GB, Oxford
" Great product. " KL, Ivybridge
" Its a lovely alternative to the main stream toothpaste you buy in the shop. " AVDW, Solihull
" I purchased this tooth paste due to hazardous chemicals inherent with major brands. I chose Sea fresh with the mint flavour and am pleased to report I am not disappointed. My mouth feels fresh and clean after brushing without the worry of have I done more harm than good? " SDF, Worthing
" Great product and most important fluoride free!! " AS, Chesterfield
" Really makes your teeth feel clean and fresh " MELA, Moor Row
" The tooth paste is the best I have used Fluoride free and natural chemical balance of botanical herbs Plus fast delivery and well packaged item I will shop again ! " MR, Leeds
" Jason always ethical and high quality.find very reliable. " ML, Tintagel
" This is great toothpaste, would recommend it. " LW, Cowdenbeath
" My new favourite toothpaste. Have used other natural brand over the last few years but have now swapped to this for good. Love how clean it leaves my mouth feeling. " JB, Fraserburgh