Allergenics Skin Soothing Body Lotion
---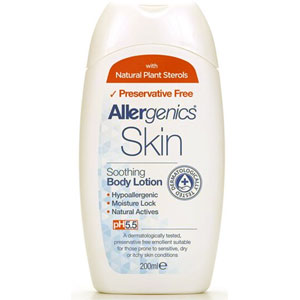 Allergenics
Skin Soothing Body Lotion
200ml bottle
£8.19
Sorry, out of stock
(discontinued)
Catalog ref: AL-1063
Key Info
With Natural Plant Sterols.
Preservative free pH5.5 emollient.
Hypo allergenic.
100% natural origin.
Dermatologically tested.
Description
Allergenics Soothing Body Lotion has been formulated after extensive research and dermatological studies in the field of allergies. It is a particularly suitable for those with easily irritated, dry, itchy skin conditions prone to Eczema and Dermatititis. Allergenics Soothing Body Lotion is a nourishing, protective emollient treatment for all skin types including babies and infants.
Developed to reduce the risk of allergies in those suffering from dermatological skin conditions, Allergenics Soothing Body Lotion is non perfumed, lanolin free and its light texture is easily absorbed by the skin.
Contents
100% natural origin, 100% preservative free and 100% soap free.
The contents of Allergenics have been carefully chosen from only naturally sourced hypo allergenic ingredients, producing a unique Soothing Body Lotion free from preservatives and harsh emulsifying agents which are amongst the principal causes of allergic reaction to regular dermatological skin care products.
More Information
Allergenics Soothing Body Lotion provides antiflare-up and protective action against external irritants, due to the inclusion of functional ingredients such as Phytosterols, Borage Oil, Aloe Vera, Allantoin and Glycyrrhetinc Acid.
The highly effective, rich emollient action providied by Meadowfoam Oil and Glycerin combined with Vitamin E provides a perfectly balanced lotion maintaining the skins elasticity and hydration, whilst protecting against external irritants... naturally.
Benefits
Hypo Allergenic.
Dermatologically tested.
Allergy Tested.
Microbiologically Tested
pH5.5
Includes
Aloe Vera
Meadowfoam Seed oil
Protective Vitamin E
Borage seed oil
To Use
Apply to the skin and carefully massage in a circular motion until completely absorbed. Use as required, or as recommended by your healthcare practioner.
Ingredients