Grahams Natural C+ Cream Eczema Dermatitis Relief
---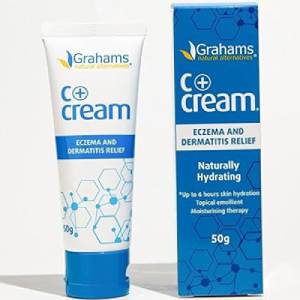 Grahams Natural
C+ Cream Eczema Dermatitis Relief
50g tube
£14.40 was £16.00 (save 10%)
Add to Basket
Catalog ref: GA-001
Key Info
Natural Formula.
Low irritant.
Fragrance Free.
Topical emollient, moisturising therapy.
Up to 6 hours hydration.
Description
Contains clinically proven ingredients to reduce redness and inflammation on the skin.
It is best to use protective emollients thinly and frequently throughout the day (not thickly and occasionally). Protective lipids, natural polymers and antioxidants help to defend skin from irritants that can trigger and exacerbate inflammation. Grahams C+ Eczema Cream protective barrier helps to defend skin against irritants and to retain moisture for up to 6 hours.
Benefits
Anti-inflammatory - Calms and reduces inflammation with power anti-inflammatory herbs.
Antibacterial - Active Manuka Honey helps to control bacteria on the skin.
Hydration - Moisturising ingredients to hydrate dry and irritated skin for up to 6 hour.
Formulated as 'oil-in-water' to provide cool, soothing skin feel.
Includes
Calendula - A pot marigold plant, or the blossoms of the Calendula officinalis, are utilised to take care of several skin conditions.
Propolis - Bees are responsible for making Propolis by combining beeswax and other secretions with resins. For hundreds of years, people have used propolis on their skin and as a remedy for ailments including itching and eczema.

Centella Asiatica (Gotu Kola) - An evergreen plant is typically used to help boost antioxidants to heal and soothe. An analysis found that eczema treated with Centella Asiatica Leaf extract improved dramatically.
Manuka Honey - Made by bees that pollinate the native manuka bush in New Zealand. Before the development of antibiotics in the 1940s, honey was a staple in both medication cabinet and the kitchen.
Free From
Petrochemicals, perfumes, parabens, colourants and fragrances
To Use
Suitable for use by all ages, infants through to elderly.
Apply several times a day, as frequently as required to keep skin affected by and susceptible to eczema protected and comfortable; or as directed by your doctor.
Not suitable for application on open wounds.
Ingredients
Class 1 Medical Device
Grahams range of formulated medical devices have been designed to specifically redress imbalances in lipids, emollients, lubricating and functional lipids and to protect the skin with soft, flexible natural films to help protect and replicate the skins own natural moisturising system.