Grahams Natural Psoriasis Cream
---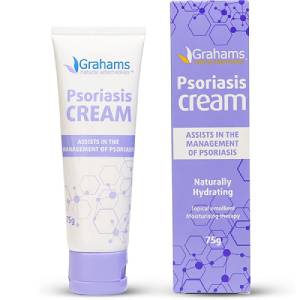 Grahams Natural
Psoriasis Cream
75g tube
£18.00 was £20.00 (save 10%)
Add to Basket
Catalog ref: GA-005
Key Info
Assists in the mmanagement of Psoriasis.
Non-sterile topical emollient, moisturisng therapy.
Natural formula.
Low irritant, fragrance free.
Class 1 medical device.
Description
Psoriasis is a common, chronic inflammatory disease affecting about 3% of the worldwide population.
Grahams topical emollient therapy is used to help redress skin plaques characteristic of psoriasis, symptoms of which including dry, inflamed, irritated, itchy, flaky, denuded, thickened or red skin.
Grahams Psoriasis cream acts by softening the surface, permitting removal of dead skin (scale) and facilitating epidermal re-hydration.
Humectants, antioxidants and mild keratolytic agents complement the moisturising action, helping to normalise skin structure and function. It can be used alone, or in combination with medicated treatments or phototherapy.
With powerful ingredients such as; Manuka Honey, Calendula Flower extract, Gotu Kola extract as well as Avocado Oil & Jojoba Oil.
Benefits
This product is a Class l Medical Device and is has scientific evidence & data to help with Psoriasis.
Grahams range of formulated medical devices have been designed to specifically redress imbalances in lipids, emollients, lubricating and functional lipids and to protect the skin with soft, flexible natural films to help protect and replicate the skins own natural moisturising system.
Includes
Manuka Honey
Made by bees that pollinate the native manuka bush in New Zealand. Before the development of antibiotics in the 1940s, honey was a staple in both medication cabinet and the kitchen. Clinical evidence also demonstrate that manuka honey can assist in wound maintenance and care.
Centella Asiatica (Gotu Kola)
An evergreen plant, rooting at the nodes it is typically used-to assist small injuries, it has compounds referred to as triterpenoids that appear boost antioxidants in the wound site.

Jojoba Oil
Jojoba oil's resemblance to sebum allows it to easily absorb into your skin, helping making it a gentle, softening moisturiser. It may assist for a variety of skin infections due to its anti-inflammatory and antibacterial properties.
Shea Butter
One of the best moisturising, anti-aging and protecting natural products in the world! Let's say in short that it is one of the best anti-aging agents for your skin. It makes it more supple, more alive, nourished and radiant. If you have wrinkles, fine lines and crow feet or if your skin is dry, very dry or devitalised, Shea butter will make all of these problems vanish and bring your skin back into life and beauty. It is the most soothing skin care ingredients in the world.

Avocado Oil
The most penetrative of all natural plant oils. Resulting in extremely soft and hydrated skin and because of its humectant properties it prevents your skin from drying out.
Free From
All Natural
To Use
Apply to clean, dry skin as frequently as required (nominally 2-3 times daily) to keep plaques and psoriasis effected skin moist and comfortable. It is best to use emollients thinly and frequently throughout the day (not thickly and occasionally), because the emollient action helps the skin to maintain its natural hydration and barrier function. Not suitable for application to large or open wounds.
Ingredients
---
Product Comments & Customer Reviews
" Extremely quick delivery and I am very pleased with the product. I have only been using it for 3 days but my skin already feels more moisturised and comfortable. " JC, Gosport