Salcura Bioskin DermaSpray
---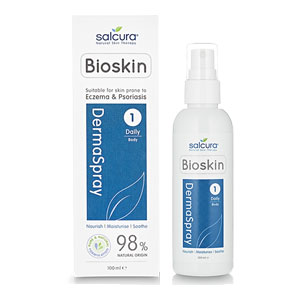 Key Info
Suitable for skin prone to Eczema & Psoriasis.
Nourish, moisturise & soothe.
98% Natural Origin
Description
Bioskin DermaSpray Skin Nourishment Spray is both innovative and unique.
Developed specifically for adults over 12 years with dry, itchy skin, it combines a naturally effective, nutrient rich formulation by use of a hassle free application, without the additional need for any harsh ingredients and is also suitable for those who may be prone to eczema, psoriasis, dermatitis, rosacea as it helps to support the skin barrier and natural moisturising factor.
Providing rapid itch relief, the fine liquid sinks deep into the skin to nourish skin cells earlier on in their life cycle - making them healthier when they are at the surface.
Bioskin DermaSpray now also contains almond oil to increase skin moisturisation and nourishment.
Includes
Olive Oil
Almond Oil
Sea Buckthorn
Grape Seed Oil
Tea Tree Oil
Eucalyptus Oil
Aloe Vera
Rosemary Exract
Lavender
Peppermint Oil

Free From
Steroids
Paraffin
Alcohol
Parabens
Lanolin
Colour
Fragrance
Benefits
Provides relief from skin itching and dryness.
Soothes and calms irritated and inflamed skin.
With no known side effects it is suitable for use during pregnancy.
To Use
1. Apply at least 3-4 times a day initially onto the affected areas of the body.
2. Reduce this application frequency as the symptoms subside.
3. When skin has returned to relative normality, continue using the product to top the skin up with DermaSpray's vital nutrients at least 2-3 times per week. This should keep the symptoms controlled.

In cases of more severe surface skin damage and dryness, use this spray in conjunction with Bioskin Zeoderm Skin Repair Moisturiser - applying shortly after the spray.
Ingredients
Benefits Of A Spray
A spray application can be far more practical and economical than a cream.
It can easily be used in the hair-line/scalp and doesn't need to be rubbed if so desired.
Atomising the liquid through a spray head means little wastage, minimal liquid use and an even coverage over the skin.
---
Product Comments & Customer Reviews
" Please don't ever stop selling the Salcura DermaSpray product! Thank you. " SBG, Wallington
" Amazing product. Does everything steroids didn't do. " MG, Ross-On-Wye
" I only use the Derma Spray which is excellent. " BB, Newport