Grahams Natural Rosacea Cream
---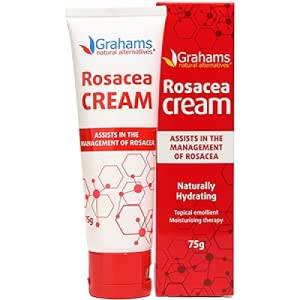 Grahams Natural
Rosacea Cream
75g tube
£18.00 was £20.00 (save 10%)
Add to Basket
Catalog ref: GA-006
Key Info
Assists in the mmanagement of Rosacea.
Non-sterile topical emollient, moisturisng therapy.
Natural formula.
Low irritant, fragrance free.
Class 1 medical device.
Description
Developed to relieve the symptoms of Rosacea, with a low-irritant natural cream to provide moisture and create a protective barrier. It is intended for local application, where the skin is susceptible to or has been affected by local inflammation (redness).
Grahams Natural Rosacea Cream is a gentle formulation that helps soothe, calm and protect the skin from Rosacea. It is formulated with powerful natural ingredients such as; colloidal oatmeal, sunflower seed oil, jojoba seed oil and vitamin C to provide a protective coat over the skin and improve the skins barrier function.
Benefits
This product is a Class l Medical Device and is scientifically proven to assist in the management of rosacea.
Includes
Colloidal Oatmeal
Colloidal oatmeal has been clinically proven to have an anti-itch affect. It soothes, softens, reduces water loss and moisturises skin thereby reducing redness and irritation. Colloidal oatmeal works great to help relieve dry, skin patches and more importantly Eczema.

Vitamin C
One of the many vitamins that the body & skin requires to function, clinical data suggest that Vitamin C is an antioxidant with multi positive effects on the skin.
Jojoba Oil
Simmondsia Chinensis Seed Oil is the fixed oil expressed or extracted from seeds of the desert shrub, Jojoba.
Simmondsia chinensis.
Vitamin B3 (Niacinamide)
Niacinamide, helps to improve barrier function and reduces transepidermal water loss. Clinically non-irritating and eported as a functional whitening agent when combined with vitamin C.
Free From
Natural formulation.
To Use
Can be used as a (rinse off) cleanser and as a soothing (leave on) treatment moisturiser. For best results apply generously to areas affected by and susceptible to rosacea at least 2x daily.
Use as a cold cream; Place cream in fridge to cool down then apply to skin affected by Rosacea, rinse off using tepid water, and pat dry with soft towel. Follow up with your usual skincare regime. Can be used day and night and can be kept in the fridge so product remains cool on the skin.
Ingredients
---
Product Comments & Customer Reviews
" Rosacea Cream I find is very good " BH, Reigate