Well.Actually. Liposomal Glutathione
---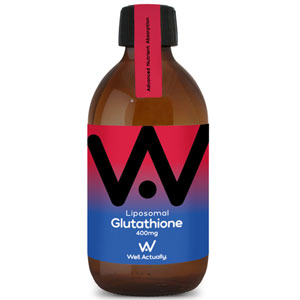 Well.Actually.
Liposomal Glutathione
300ml glass bottle
£34.99
Add to Basket
Catalog ref: WY-205
Key Info
400mg
Advanced Nutrient Absorption
Blueberry & Vanilla Flavour
Description
High-Strength Reduced L-Glutathione with added Selenium works synergistically to boost Glutathione levels in the body, optimising its 'master antioxidant' capabilities.
The advanced liposomal oral delivery system is easily recognisable by the body and protects the Glutathione & Selenium against harsh digestive processes, delivering it directly into cells for optimal absorption.
Benefits
Ultra-Powerful Absorption
Quadruple strength with added selenium
60 servings just £17.49 per month
Take straight or mix with a cold drink
Vegan & vegetarian friendly
Made with care, in a UK GMP & BRCGS food-approved manufacturing facility.
Free From
Free from alcohol, dairy, gluten, wheat, artificial sweeteners, and preservatives.
To Use
Shake Before Use.
Take 5 to 10ml daily (1 to 2 teaspoons) a day.
Can be taken directly or mixed with a cold drink, smoothies, and cereals.
Do not exceed the recommended dose.
5ml = 1 x level teaspoon
Due to our active high-strength Liposomal Glutathione antioxidant, it is important to follow these storage instructions:
Unopened - Store in a cool, dry place, away from sunlight.
Once Opened – Store it in a refrigerator. Do not freeze. Place the cap back on the bottle, immediately after use. Life of 60 - 90 days, depending on correct storage. Store out of reach of young children.
Ingredients
Caution
Food supplements must not be used as a substitute for a balanced diet and a healthy lifestyle. If you are pregnant, breastfeeding, taking any medications or under medical supervision, please consult a doctor or pharmacist before taking this supplement.
Contains Xylitol, excessive consumption may cause a laxative effect.
Allergy Advice: No added allergens.
Avoid taking late in the evening or before bed as the phosphatidylcholine complex can be activating and cause sleep unrest.