Solgar Turmeric Root Extract Capsules
---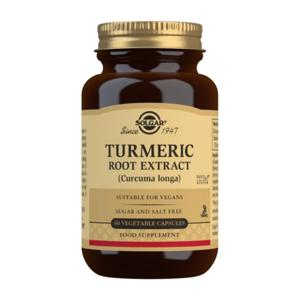 Solgar
Turmeric Root Extract Capsules
60 capsules
£21.50
Add to Basket
Catalog ref: SG-4161
Key Info
Vegetable Capsules
Salt & Sugar Free
Vegan
Description
Turmeric Root Extract - more than just a culinary ingredient, this bright yellow spice also boasts several health-boosting properties.
Solgar's Turmeric Root extract contains a standardised dose, meaning you can be assured of a consistent dose of the active ingredient curcumin in every capsule.
The active ingredients in turmeric include beneficial flavonoids called curcuminoids, which are plant-based antioxidants. They help fight cell damaging free radicals in the body. Native to South East Asia, turmeric is part of the ginger family, with a long history of traditional Ayurvedic use.
Benefits
Made with premium quality Turmeric extract
Contains a standardised dose of actives
Superior antioxidant benefits to fight cell-damaging free radicals in the body
Unique formula containing Solgar's Phyt02x to preserve freshness
Free From
Gluten, wheat, soya, preservatives, flavours, colourants, sugar, salt, starch.
Suitable for Vegans, Vegetarians
To Use
1 tablet daily preferably at mealtime or as directed by a healthcare practitioner
Ingredients
Benefits Of Turmeric
Turmeric contains curcumin, a substance with powerful anti-inflammatory and antioxidant properties.
Turmeric is a powerful anti-inflammatory herb that's been used for centuries to treat a variety of ailments. Turmeric and its powerful ingredient, curcumin, have a range of health benefits. Antioxidants have the potential to prevent heart disease, eye conditions and Alzheimer's. Anti-inflammatory properties can help people with arthritis.