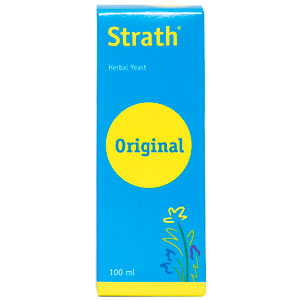 Key Info
Plasmolysed herbal yeast liquid
To help support the body when life demands that little bit extra
Description
Yeast cells of the Saccharomyces Cerevisiae Myen types are combined with selected herbal extracts in the special Strath process. the subsequent fermentation procedure gently plasmolyses (opens up) the yeast cells. The unique Strath herbal yeast obtained in this way contains numerous essential nutrients.
Free From
Suitable for vegetarians, no artificial colours, flavours or preservatives.
To Use
One 5ml teaspoon taken 2-3 times a day before meals. Children 3-12 years: ½ teaspoon 2-3 times a day before meals. Maybe taken alone or mixed with Juice if preferred.
Ingredients