Diem Vitamin C Pigment-Correcting Water Cream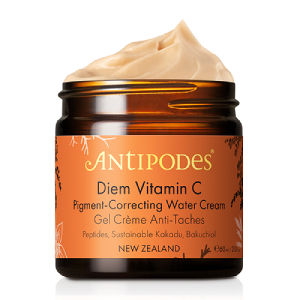 60ml jar
£31.50 was £35.00 (save 10%)
Add to Basket
Catalog ref: TI-156
Key Info
A Vitamin C face cream suitable for all skin types, especially those with pigmentation and uneven skin tone.
Description
Meet your desire for even-toned skin radiance with this Vitamin C moisturiser. Powerful natural ingredients allow Diem Vitamin C Tone-Correcting Water Cream to target pigmentation, brighten, and refine skin texture.
Benefits
Revitalise dull skin with this daytime formulation that features Kakadu plum, nature's richest source of Vitamin C, for a bright, youthful-looking visage. With high-performance peptides, this Vitamin C moisturiser targets pigmentation and uneven skin tone, whilst natural retinol alternative bakuchiol unites with plant hyaluronic acid to deliver a plumped, fresh appearance.
Certified vegan
Vitamin C, hyaluronic acid, peptides & natural retinol bakuchiol
A Vitamin C face cream suitable for all skin types, especially those with pigmentation and uneven skin tone
Refreshing fragrance of vanilla pod and mandarin
Includes
Key Ingredients
Peptides
Assist with targeting pigmentation and uneven skin tone by helping to inhibit the production of melanin. These short chains of amino acids form the building blocks of skin and are responsible for skin tone and clarity.
Kakadu Plum
With 100 times the level of Vitamin C in oranges, this potent superfruit contains the world's highest natural levels of Vitamin C to help brighten skin, boost collagen, address pigmentation and defend against damage that can lead to early aging.
Free From
Antipodes products are completely free from: parabens; sulphates; phthalates; silicon derived ingredients; synthetic fillers; genetically modified (GM) ingredients; genetically engineered (GE) ingredients; animal ingredients (except ingredients from living bees, such as honey); artificial colours; artificial fragrances; chemical sunscreens; mineral oils; petrochemicals (like propylene glycol); phenoxyethanol; BHA (butylated hydroxyanisole); ethanolamines and ethoxylated ingredients.
This natural skin brightening cream is certified vegan by the UK Vegetarian Society, the oldest and most respected vegetarian organisation in the world.
To Use
Use Diem Vitamin C Water Cream by following these steps:
Use this tone correcting moisturiser every morning. First cleanse, then apply several drops of Glow Ritual Vitamin C Serum for glowing skin. Gently massage Diem into your face, neck and décolletage using upward strokes.
Ingredients