Napiers Age Defiance Corrective Cream
---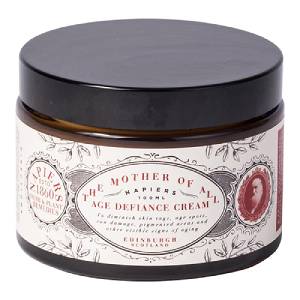 Napiers
Age Defiance Corrective Cream
100ml glass jar
£18.00
Add to Basket
Catalog ref: NP-614
Key Info
Original herbal formula for hands, neck and face.
Helps to fade freckles, liver spots, unusual skin marks.
Description
An excellent moisturiser with Sweet Almond and Coconut oils that are easily absorbed by the skin. Chamomile and Chickweed extracts are soothing and calming.
Age Defiance has a clear fresh natural scent from lemon essential oil which also helps to tone, lighten and brighten skin, and from rose geranium oil that revitalises maturing skin.
Benefits
Helps to shrink and remove skin tags.
Fades age (liver) spots, unusual skin marks, freckles or sun spots.
Some signs of sun damage can be dramatically faded and reduced.
Evens out some types of uneven skin pigmentation.
Suitable as a daily moisturiser for younger looking skin.
Can also be used on the face and neck as well as hands and body.
Suitable for all skin types, in particular maturing, ageing skin. Also for fair or light skin of any age where the skin show signs of aging or sun damage. Can be used as a daily moisturiser.
Includes
Greater Celandine
Tree of Life
Roman Chamomile
Lemon
Rose Geranium
Chickweed
Thuja.
Free From
Parabens.
Mineral oil.
Artificial Colour.
Fragrance.
To Use
Apply twice a day to areas of skin that show signs of ageing or sun damage.
Gentle enough to be used on the face as well as neck, hands, shoulders, chest and other parts of the body exposed to the sun.
Ingredients
About
As you start getting older all sorts of strange marks appear on the skin. Age spots, sun spots, skin tags, new moles, dry spots, pink patches, itchy spots!
The Age Defiance Skin Cream has been used for generations of women as their secret weapon - it's one of nature's best-kept secrets! It helps to remove skin tags naturally and quickly. It will also visibly fade and reduce the appearance of liver spots, age spots and sun spots after about 3 weeks of use. If you use it every day as a moisturiser - whether for your face, neck, cleavage or hands - it will also help to prevent marks that have gone from reappearing at all. A lovely light moisturising cream with a very pleasant, fresh natural scent.
---
Product Comments & Customer Reviews
" This cream is amazing - cleared a skin tag from my eyelid in just over a week! Thank you " TD, Grimsby