Napiers Natural Bugbuster Outdoor Skin Cream
---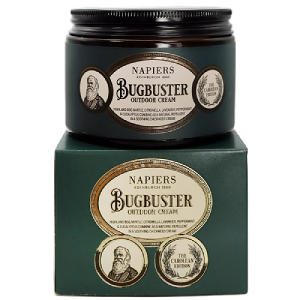 Napiers
Natural Bugbuster Outdoor Skin Cream
100ml jar
£14.00
Add to Basket
Catalog ref: NP-314
Key Info
Organic Bugbuster Cream.
A natural, gentle insect repellent.
Tested on the Scottish midge.
PLEASE NOTE THAT BUGBUSTER IS NOW PACKAGED IN A RECYCLABLE PET JAR (AWAITING IMAGE)
Description
Is your holiday being spoilt by flies, midges, mosquitos and other flying insects? You need Napiers Bugbuster Cream!
Bugbuster has been tested against a wide range of insects in many countries; doesn't cause skin irritation; doesn't dissolve plastics and fabrics; a pleasant and slight odour; non oily and safe for young children.
Bugbuster contains plant essential oils to repel insects naturally. Plants don't like insects any more than we do!
The essential oil blend has been tested against the renowned Scottish midge, as well as more exotic mosquitoes and gnats! We also find it is disliked by non-biting but annoying insects such as bluebottles, flies and wasps, helping to keep them away - a true bug buster.
As summer skins are often sunburned too, it also contains soothing Chickweed oil and cooling Aloe Vera.
Benefits
Effective against midges, sand flies, mosquitoes & horse flies
Soothing and cooling on sunburned skin
Smells great and no DEET to dissolve your clothes or wetsuit!
Bugbuster has been to Scotland, Spain, South America, West Africa and Thailand.
Great for hikers, fishermen, golfers and anyone out in the great outdoors!
Suitable for children and sensitive skin
Includes
Shea Butter.
Sunflower seed oil.
Citronella oil.
Aloe Vera leaf extract.
Chickweed extract.
Lavender flower oil.
Peppermint oil.
Eucalyptus leaf oil.
Soybean.
To Use
Apply liberally to exposed skin when in areas where biting insects are known to be a problem.
Reapply several times a day and after bathing or swimming.
Ingredients