Avocado & Pear Nourishing Night Cream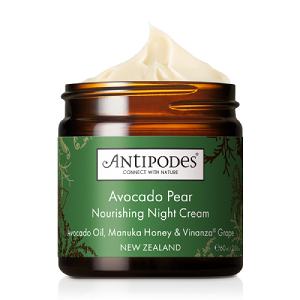 60ml jar
£31.50 was £35.00 (save 10%)
Add to Basket
Catalog ref: TI-143
Key Info
Antipodes best-selling anti-aging cream to help reduce wrinkle depth and skin dryness.
Suited to most skin types, especially mature and dry.
Description
Nourish your skin and reduce the appearance of wrinkles with Avocado Pear Night Cream - featuring premium vegetarian ingredients.
Benefits
Native New Zealand manuka honey draws moisture to your skin to help bring a truly ageless visage.
Revolutionary Vinanza® Grape is an antioxidant-rich extract from Marlborough sauvignon blanc grape seeds that helps fight the visible signs of aging.
Harnessing the powers of innovative skincare ingredients, Avocado Pear Night Cream can make a welcome addition to an anti-aging skincare routine and a skincare routine for dry skin.
Includes
Avocado Oil
This night moisturiser cream includes avocado oil for skin hydration. Nutrient-rich avocado oil helps to hydrate the skin thanks to potent levels of natural antioxidants, including Vitamins A, B1, B2 and D as well as Omegas 3 and 9.
Manuka Honey
World-famous manuka honey is an antibacterial superfood found only in New Zealand that helps promote youthful, fresh and blemish-free skin.
Free From
Antipodes products are completely free from: parabens; sulphates; phthalates; silicon derived ingredients; synthetic fillers; genetically modified (GM) ingredients; genetically engineered (GE) ingredients; animal ingredients (except ingredients from living bees, such as honey); artificial colours; artificial fragrances; chemical sunscreens; mineral oils; petrochemicals (like propylene glycol); phenoxyethanol; BHA (butylated hydroxyanisole); ethanolamines and ethoxylated ingredients.
This ultra-rich, nourishing night cream is certified vegetarian by the UK Vegetarian Society, the oldest and most respected vegetarian organisation in the world.
To Use
Incorporate Avocado Pear Nourishing Night Cream into your evening skincare routine by following these steps:
Use every night for ultimate revitalisation.
Gently massage into your face, neck and décolletage.
Follow by applying Kiwi Seed Oil Eye Cream to the delicate eye area.
Ingredients