Skin Revivals Intensive Face Lift Serum
---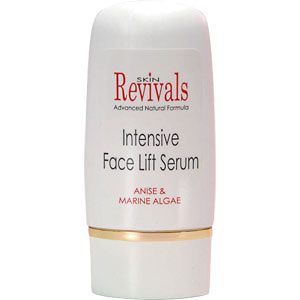 Skin Revivals
Intensive Face Lift Serum
30ml tube
£18.00
Add to Basket
Catalog ref: SR-14
Key Info
With Anise Extract and Marine Algae.
Visibly lifts and smooths skin.
Improves skin tone and texture.
Description
Advanced botanicals and natural moisturisers help lift and smooth, reducing the appearance of fine lines and wrinkles. The natural herbal complex will give day long protection and boost long term hydration.
At the same time a unique Algae based blend, rich in vitamin C and Amino Acids provides an additional tightening effect.
This Seaweed base, coupled with the skin softening benefits of Algae will also soothe and nourish tired, stressed skin.
Finally Lavender Oil, Rose Geranium Oil and Bitter Orange Oil will soothe, calm and improve skin tone.
Includes
Anise Extract-a natural alternative to Botox.
Codium Tomentosum Extract – a Marine extract to boost both immediate and long term hydration.
Sage Oil – natural Muscle relaxant.
Bitter Orange Oil – improves skin tone.
Nannochloropsis Oculata - derived from Microalgae and found to firm and tighten skin while promoting a healthy collagen network. In clinical trials it was shown to demonstrate an instant and perceptible tightening effect on the skin.
Free From
Petrochemicals.
Parabens.
Artificial Colour.
Fragrance.
Benefits
Made in the UK.
Vegan.
To Use
Apply in the morning after cleansing to face and neck. Concentrate on areas that are prone to wrinkling – around the eye contour area, mouth, forehead, jaw line and throat.
Leave to be absorbed before applying your daily moisturiser.
Ingredients
---
Product Comments & Customer Reviews
Skin Revivals - Intensive Face Lift Serum
" The SR-13,14, and 15 items are amazing,and have made such a difference to my skin.My skin already looks much younger and more radiant in such a short time,I hardly need to use foundation cream anymore.Many Thanks. " P.R., Bath.
" Very refreshing in the morning, feel wide awake and refreshed. " LP, Stockport
" Really good product. I used to have deep wrinkles on one of my face where i sleep and now so much better. I rub a little into the wrinkles 20 times and the rest on my face, only a little and it really works " AR, Weston-Super-Mare
" Results? The most noticeable result with this product, for me, is smoothing and it worked after the first few uses. The next noticeable effect was firming. The serum is clear and light and I wear it under makeup. It's a nice invisible layer. " BLOG, Berrys Beauty
" Face Lift Serum - is a wonderful product. " J.P., Carmathen.
" This product is absolutely brilliant. " SR, Mansfield
" I like the Intensive face lift serum, it gives me a nice feeling of firmness without making my skin too dry " JS, Castleford
" This is an excellent product and does make a difference " PS, Gloucester
" This product is amazing, absolutely marvellous. I wouldn't swap it for anything. " SR, Mansfield