Skin Revivals Brightening Under Eye Serum
---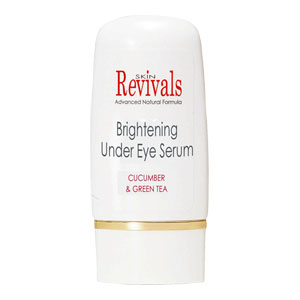 Skin Revivals
Brightening Under Eye Serum
30ml tottle
£14.00
Add to Basket
Catalog ref: SR-23
Key Info
With Cucumber & Green Tea
Description
An ultra light serum that glides on and lifts and dramatically brightens the delicate eye area. Regular use may help reduce the appearance of fine lines , even skin tone, diminish dark circles and puffiness.
With beneficial natural active ingredients to address all those problems associated with ageing by helping to reduce wrinkles, lift and tighten.
Benefits
Cools and soothes, helping to reduce puffiness.
Refines and revitalises dull skin.
Anti-oxidants help prevent free radical damage.
Natural actives help lighten and brighten.
Includes
Cucumber Water - is a natural toner and astringent and also acts as a natural bleaching agent helping to restore and even out skin tone. The cooling properties along with antioxidants and silica present in cucumbers help rejuvenate the skin. It also reduces the water retention and helps controls the puffiness under the eyes .
Pomegranate - has high levels of Vitamin C and antioxidants, which can help prevent cell damage.
Caffeine - may temporarily reduce swelling and help to reduce the appearance puffy under-eye circles.
Green tea extract - naturally rich in antioxidants to help protect from the damaging effect of free radicals. It can actually decrease wrinkles and possibly slow down skin aging and is a good anti-inflammatory agent thereby reducing inflammation in the skin.
Lactobacillus Ferment - helps to condition the skin. The fermentation process also creates additional skin-loving amino acids and antioxidants.
Free From
Parabens, mineral oil, fragrance, silicones and colourants.
To Use
Apply to the eye contour area morning and night on cleansed skin. Gently pat on without rubbing.
Ingredients
---
Product Comments & Customer Reviews
" This product is absolutely brilliant. " SR, Mansfield