Retouch Pen
by Remove
| | |
| --- | --- |
| Size: | 4ml net pen |
| Ref: | RM-04 |
| Price: | £ 7.99 Out of Stock |
| Due: | August |
Eyebrow & Facial Wax Pen
100% Cire Wax
No need to heat.
Ergonomic tip.
Sensitive.
Description
The easy way of shaping your eyebrows and removing facial hair
Specially designed for efficient use on eyebrow and lip area, and enables extremely easy shaping for eyebrow.
It is an innovative product produced from beeswax and designed for you to use wherever you like.

Pack includes:
1 Facial Wax Pen 4 ml
2 Remove After Wax Cleaning Wipes
20 Waxing Papers
1 User Instructions
Benefits
Formula needs no heating
Ergonomic applicator
Precise dosage adjustment by twisting
Minimum 20 dosages of application
Precise perfect curves with smart applicator
Free From
Parabens, sugar, mineral oil
To Use
1. Take the product in room temperature, slowly turn the mechanism under the pen until enough wax comes out of pen.
2. Apply the Retouch Pen on the area in the direction of hair growth . Apply in the direction of hair growth both for your lip and face area.
3. Firmly stick the waxing papers on the waxing areas in the direction of hair growth.
4. Tighten your skin with one hand and pull the waxing paper on the opposite direction of hair growth.
Cautions
Always read user instructions before using the product.
Do not heat the product in microwave oven or in any kind of heater.
Diabetics, elderly and retinoid patients can't use wax. If you are undergoing dermabrasion, laser and peeling treatment, do not use the product.
Do not use the products on areas with varicose, moles, irritations, sun burns, wounds and a similar skin disease or if your skin showed reaction to liposoluble wax previously.
Do not use the wax and cleaning wipes on your eyes, nipples, perianal and genital areas.
Test on a small part of your body before using the wax and cleaning wipes. You can continue to use the product if your skin doesn't show reaction within 24 hours.
Do not use the product after shower or after you washed your skin. Wait for at least 15 minutes until skin becomes dry.
Wait at least for 24 hours, before using a lotion or any kind of cosmetic product on the waxed area.
Keep the product in a dry and cool place, out of the reach of children.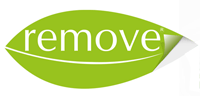 Remove
Natural Hair Removal Products.
Paraben, sugar & mineral oil free.
Remove, approaches depilation in 3 phases: 'Preparation before depilation', 'depilation' and 'after depilation'.
It is an innovative range produced from beeswax .