Derma-Lotion - Dry Skin, Itchy Skin
by Hope's Relief
Dry Skin Relief.
Ultra light
Soothes & hydrates.
Itch relief
For skin prone to eczema, psoriasis & dermatitis.
Description
Combines the powerful moisturising and skin protecting Colloidal Oatmeal which has been scientifically proven to create a fine film or barrier on your skin. This works by locking in moisture to nourish dry skin and also containing anti-itch properties, helping to break the "itch – scratch" cycle.
The lotion also contains 9 additional natural skin moisturisers and anti-itch ingredients including Sea Buckthorn, Coconut Oil, Marshmallow Root and Kakadu Plum. These work together to provide a unique soothing and calming action which is deeply moisturising and encourages natural skin healing.
The light weight feel is soothing and ideal for babies, children and adults.
The active natural ingredients provide instant relief from itching due to dry skin and long lasting hydration.
Developed by naturopaths, Hope's Relief Oatmeal Lotion is free from skin irritating nasties including steroids, fragrances, SLS, parabens, paraffin, lanolin and petrochemicals.
10 active natural ingredients to help relieve itchy and irritated skin
Benefits
Provides a unique soothing and calming action
Provides a fine film or barrier to lock in moisture
Helps break the "itch-scratch" cycle
Has a lightweight feel and is deeply moisturising
Calms and soothes itchy, irritated skin
Encourages natural skin healing
Is ideal for babies, children to adults
Includes 10 Active Ingredients
2% Colloidal Oatmeal: Contains beta-glucan that forms a fine film on your skin as well as penetrates deep to provide much needed deep moisturisation.
Oat Oil: An excellent source of anti-oxidants and able to deeply nourish and penetrate damaged skin.
Sea Buckthorn: For intense hydration Sea Buckthorn boasts the main moisturising essential fatty acid Omega 7 Palmitoleic acid. Palmitoleic acid is a natural component of skin.

Kakadu Plum: Native to Australia and with the highest Vitamin C concentration of any food in the world. The fruits contain large amounts of trace minerals and antioxidants. Antioxidants like vitamins C and E are especially important for skin health because they neutralize cell-damaging free radicals.
Marshmallow: Marshmallow minimises irritation as well as improving wound healing processes and encouraging skin moisture levels.
Chamomile: This calming ingredient contains acidic, essential oils and flavanoids known to have anti-allergenic properties.
Green Tea: Reduces inflammation and is a source of anti-oxidants.
Abyssinian Oil: Natural, light-weight seed oil containing a high level of unsaturated fatty acids to give skin a smooth texture.
Coconut Oil: Soothes skin and retains the skin's moisture content to give skin a smooth texture.
Shea Butter: Rich in Vitamins A and E for their anti-oxidant and anti-inflammatory benefits.
Free From
Steroids
Artificial Fragrance
SLS
Parabens
Paraffins
Lanolin
Petrochemicals
To Use
Apply 3-4 times daily or as needed
Comments & Customer Reviews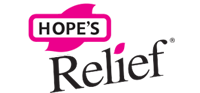 Hope's Relief Creams.
Natural moisturising creams.
Premium Relief Creams.
Hope's relief creams have been developed in response to the need for natural effective alternatives for relieving the symptoms of dry, itchy skin in children, babies, and adults.
The remarkable results have led to grateful testimonials from around the world.
Hope's Relief offer effective natural alternatives to other steroid based creams and lotions and can be used on babies, young children and adults for extended periods of time with no side effects.
The products are created from potent natural healing ingredients, free from artificial colours, perfumes and animal products.
They contains licorice, calendula, Manuka honey, aloe vera, and gotu kola, natural and organic ingredients.
Suitable for all ages from new-born babies to adults.
Includes: Hospital Grade Organic Manuka Honey NPA10+ and other active ingredients to help soothe itchy dry skin prone to eczema, psoriasis and dermatitis.