Dry Skin Itchy Skin Gel-Lotion
by Hope's Relief
Instantly Cools. Soothes Itching.
Moisturises
For skin prone to Eczema, Psoriasis and Dermatitis.
For Babies, Children & Adults.
Description
Hope's Relief Gel-Lotion instantly provides the outer skin with a cooling and calming sensation. It also penetrates deep to soothe and moisturise dry skin and calm itchy skin. Your skin will feel the cooling and soothing instantly.
Ideal for babies and children to help soothe and calm their irritated and itchy skin
Benefits
Provides instant cooling relief.
Calms and soothes itchy, irritated skin.
Itch relief due to dry skin.
Encourages natural skin healing.
Clear, non staining formulation.
Light, non-greasy moisturising.
Includes
Aloe Vera: Nature's miracle plant which penetrates every layer of the skin releasing moisture and hydration into the skin.
Marshmallow: Known for its' anti-inflammatory properties, Marshmallow minimises irritation as well as improving wound healing processes and encouraging skin moisture levels.
Sea Buckthorn: For intense hydration Sea Buckthorn boasts the main moisturising essential fatty acid Omega 7 Palmitoleic acid. Palmitoleic acid is a natural component of skin.
Calendula: Assists in the skin's ability to repair and reduces inflammation. Contains antiseptic and anti-fungal properties.
Chamomile: This calming ingredient contains acidic, essential oils and flavonoids known to have anti-allergenic properties.
Vitamin B5: Vitamin B5 is known to speed wound healing, making it ideal in promoting skin regeneration.
Free From
Steroids
Fragrances
SLS
Parabens
Paraffin
Lanolin
Petrochemicals
To Use
Apply 3-4 times daily or as needed.
Comments & Customer Reviews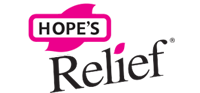 Hope's Relief Creams.
Natural moisturising creams.
Premium Relief Creams.
Hope's relief creams have been developed in response to the need for natural effective alternatives for relieving the symptoms of dry, itchy skin in children, babies, and adults.
The remarkable results have led to grateful testimonials from around the world.
Hope's Relief offer effective natural alternatives to other steroid based creams and lotions and can be used on babies, young children and adults for extended periods of time with no side effects.
The products are created from potent natural healing ingredients, free from artificial colours, perfumes and animal products.
They contains licorice, calendula, Manuka honey, aloe vera, and gotu kola, natural and organic ingredients.
Suitable for all ages from new-born babies to adults.
Includes: Hospital Grade Organic Manuka Honey NPA10+ and other active ingredients to help soothe itchy dry skin prone to eczema, psoriasis and dermatitis.