Antibacterial Propolis & Manuka Oil Toothpaste
by ManukaVantage
| | |
| --- | --- |
| Size: | 100g tube |
| Ref: | MV-TP |
| Price: | £ 4.95 Out of Stock |
Natures natural healer.
Active AAH 650+.
Made in New Zealand.
Description
Manukavantage toothpaste contains pure New Zealand Manuka Oil and Propolis with natural and effective antibacterial, antiseptic and anti-inflammatory properties. Pleasant tasting this toothpaste cleans your teeth, promotes healthy gums, and helps to keep your mouth feeling fresh.
Includes
Propolis - research indicates that this is a promising cavity preventing agent.
Eucalyptus Oil - has anti-microbial and antibacterial properties. Due to its germicidal properties (preventing infection by inhibiting the growth of micro-organisms), Eucalyptus Oil is also effective in treating plaque, cavities and gingivitis.
Pepperment Oil - and Menthol both of which help eliminate harmful bacteria around the teeth and gums and deal with bad breath as well.
Aniseed Oil - is used due to its anti-microbial and antibacterial properties which make it perfect for use in toothpaste.
Free From
Fluoride
To Use
Brush your teeth after every meal.
Warning
Not suitable for children under 2yrs of age and persons who suffers from allergic reactions to bee products.
About Manuka Oil
Manukavantage contains Manuka Oil with the highest levels of anti-microbial activity, exclusive to the Manuka trees growing naturally in the wind swept hills and valleys of the East Cape region of New Zealand.
After extraction from the fresh green leaves of the trees we have taken this unique oil and blended it into our range of authentic New Zealand Manuka products.
About Manuka Honey
Unique to New Zealand pure Active Manuka AAH (Antibacterial, Antioxidant Honey) 650+ has remarkable beneficial properties. High in antioxidants which neutralise free radicals and the highest natural antibacterial activity reading of 650+, makes this an especially beneficial honey for your health.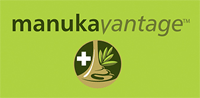 ManukaVantage
Active AAH (Antibacterial Antioxidant Honey) 650+
Manuka Oil
This new range features the exceptional natural healing properties of Active AAH (Antibacterial Antioxidant Honey) 650+ and Manuka Oil.