Herbal Deodorant/Anti-Perspirant
by Martha Hill
With 4 herbal extracts.
For all-day freshness.
Description
Control perspiration and sweating, and keep your underarm area fresh and cool all day.
This original deodorant & anti-perspirant combines active botanicals to help fight odours.
This subtly fragranced roll-on liquid deodorant is quick drying and formulated to provide gentle protection.
Includes
Juniper
Hyssop
Melissa
Pine
Aluminum Chlorohydrate
Free From
Artificial colour. Parabens preservative.
Comments & Customer Reviews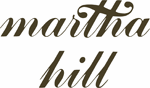 Martha Hill
Serious herbal skin care for over 40 years.
With the original range formulated in the late 1960's Martha Hill was well ahead of her time in producing a range of skincare products based on the purest natural ingredients.
All Martha Hill products are formulated to react to your skin's daily needs. They are finely balanced to ensure that your skin receives the care it deserves. Based on a carefully researched combination of the finest natural oils and extracts they are designed to cleanse, tone, moisturise and nourish: the four essential steps to a healthy, glowing complexion.