Cream Rouge - Natural Blush
by Martha Hill
For a perfect, natural blush.
The original and the best.
Description
This cream blusher is easy to apply and glides on easily, giving you a natural healthy glow.
As we mature our skin tends to become dull and sallow. This cream rouge will instantly give your skin a 'lift' and bring dull skin to life.
A very soft natural pink, perfect just to add a hint of colour and suitable for all complexions.
To Use
Apply with either your fingertips or a concealer brush along the cheekbone, starting at the centre.
Smile and apply to the 'apples' of the cheeks, blending upwards and out towards the top of the ears.
Comments & Customer Reviews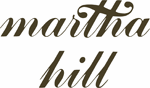 Martha Hill
Serious herbal skin care for over 40 years.
With the original range formulated in the late 1960's Martha Hill was well ahead of her time in producing a range of skincare products based on the purest natural ingredients.
All Martha Hill products are formulated to react to your skin's daily needs. They are finely balanced to ensure that your skin receives the care it deserves. Based on a carefully researched combination of the finest natural oils and extracts they are designed to cleanse, tone, moisturise and nourish: the four essential steps to a healthy, glowing complexion.