Pure Gold Manuka Honey Elixir
by Manuka Gold
Size:

150ml bottle

Ref:

MG-M01

Price:

£15.00 £ 13.00 Out of Stock

Due:

End of January

Special Offer - save 13%
With Elderberry plus Zinc & Vitamin C for Immune Support
Made with Monofloral Manuka Honey 525+
Description
Manuka honey is farmed and harvested in the rural unpolluted pastures of New Zealand. The indigenous Maori population recognises the unique activity of Manuka honey and has been using it for centuries. 
Pure Gold Manuka Honey Elixir combines genuine Manuka honey with elderberry juice, vitamin C and zinc. (1) Vitamin C and zinc each contribute to the normal function of the immune system
Nutritional Information
Suitable for vegetarians.
Typical Values Per Teaspoon (5 ml)
Manuka Honey
(525+ mg/kg MGO) 250 mg
Elderberry Concentrate 310 mg
equiv. Elderberry Fruit
(Sambucas nigra) 2000 mg
Vitamin C 50 mg (62.5% NRV)
Zinc 2.5 mg (25% NRV)
To Use
Take one teaspoon (5 ml) up to three times per day.
Advisory Information
Store in a cool, dry place, away from direct sunlight.
Refrigerate after opening and consume within two months.
Do not exceed the stated recommended dose.
Cautions
Keep out of reach of children.
See bottom of carton or bottle for batch number and best before date.
Consult a healthcare professional before use if you are pregnant, breastfeeding or taking prescribed medication.
Not suitable for children.
A varied, balanced diet and a healthy lifestyle are important. This is a food supplement and should not be used as a substitute.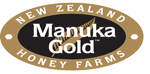 Manuka Gold
A range of soothing products containing Manuka Honey which is laboratory tested and guaranteed to contain a UMF level of 10+. This is combined with Propolis, the ingredient produced by bees to repair their hives.
This natural blend helps to soothe sore irritated throats, minor throat infections and ticklish coughs.