Colour Powder - Red 54
by HennaPlus
100% natural colouring.
More shine, more condition & more vitality.
Description
Henna Plus Colour Powder is a 100% natural hair colouring which gives your hair a natural glow. It also strengthens your hair and offers superior shine.
Hennaplus Colour Powder is available in 7 natural shades and is a permanent hair colour that lasts 2-3 months.
Includes
100% Natural Henna powder.
The henna dyes are safer than other hair dyes as they are free from Ammonia,Peroxide, Para-Phenylenediamine (PPDs) and other chemicals.
Shades
Golden Blonde 50 - recommended for light blonde to dark blonde hair
Hazelnut 51 - recommended for medium blonde to medium brown hair
Mahogany 52 - recommended for dark blonde to medium brown hair
Red 54 - recommended for dark blonde to black hair
Super Red 55 - recommended for dark blonde to black hair
Auburn 56 - recommended for dark blonde to black hair
Dark Brown 57 - recommended for light brown to black hair
Benefits
1. The only 100% natural hair colour for the most beautiful, intensive, natural colour and superior glossy shine.
2. A colouring with Hennaplus Colour Powder provides extra body, volume and strength to your hair and is the best choice in case of a sensitive scalp, or if colouring thin or lifeless hair.
3. It lasts up to 3 months, provides no outgrowth and fades gradually.
4. Pure Henna powder provides only limited grey coverage.
5. In case maximum grey coverage is desired, they recommend using Hennaplus Colour Powder in combination with Hennaplus Colour Cream.
To Use
1 Preparation
You need a large glass or plastic bowl, boiling water, spoon, comb, vinegar (for extra shine) or 1/2 lemon (for lightening), aluminium foil.
Mixing & Washing
Wash with your regular shampoo and then towel dry and brush.
Put the contents (or 1/2 the contents for short hair) of the sachet in a bowl and add boiling water stirring until a creamy paste is formed.
Add vinegar or lemon juice as required. The paste should be as hot as possible when applied.
Application
Put on the gloves included in the pack and work the paste through the hair using the dye brush also included. Once completed cover with aluminium foil.
Time
Depending on your natural colour you can leave between 5 minutes to 1hr 30mins (a table of recommended processing times and mixing proportions is included in the pack). Finally rinse out and shampoo again.
The result of the colour varies according to your natural colour, how long you leave the colour on and the harvest.
Those with exceptionally long or thick hair may require two boxes.
Full instructions are in the box, along with gloves and brush.
To determine the final colour and the length of application a lock test is advised.
Cautions
Use on permed hair only after two washes.
Reacts strongly on bleached, discoloured or grey hair so not recommended.
Cannot lighten hair.
Cannot darken hair more than two shades.
To neutralise redness strong coffee can be added to the mixture.
Do not use on a damaged or irritated scalp.
This product can cause all allergic reaction.
Tips For Grey Hair
For a maximum of 20% grey hair: mix 50% Hazelnut + 50% Dark Brown with boiling water or cofee. Leave for 30 minutes.
Hennaplus Colour Cream can also be mixed with the Colour Powder. Add in equal parts for dark hair.
About Henna Powders
Hennaplus Colour Powder guarantees you a first class, 100% natural product without any synthetic additions.
Hennaplus Colour Powders contain the finest selection of Henna available and are produced with all necessary care and love. They are microbiologically purified to rule out any form of contamination and Hennaplus guarantees not to add any synthetic ingredients, keeping the Henna powder 100% pure.
Several quality checks are in place during the entire production process to ensure these high standards are met.
Many brands may add synthetic ingredients transforming them from a natural into a chemical colouring. The colour result does not fade naturally and outgrowth will occur.
These chemicals are also what make it impossible to apply another hair colouring of any kind. Hennaplus colourings are microbiologically purified to rule out any form of contamination and one of the many benefits of this is that any hair colour can be used after a Colour Powder.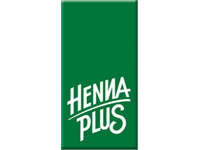 Permanent Colour
Enjoy your hair colour even longer!
Hennaplus Long Lasting Colour guarantees an intensive long lasting colour result with 100% grey coverage and the best possible care and protection for your hair.
It will last up to 3 months. The ultra caring formula is enriched with some of the finest certified organic extracts and conditioning ingredients (like Sunflower seed extract, Rooibos, Green tea, Ginseng, Hops, Chamomile and Rosemary) for healthy, shiny and silky soft hair.
It lengthens the durability of the colour result significantly, strengthens the hair structure and protects the hair colour against UV radiation. By using state of the art technology Hennaplus is able to offer the lowest ammonia percentage available on the market, while maintaining optimal colour result.
It offers a subtle botanical fragrance which is composed without the addition of fragrance allergens, phthalates or musk compounds. A unique formulation that is also free of parabens.