Intensive Treatment Oil
by Barefoot SOS
Advanced Natural Skincare Solutions.
Skin renewing blend of 6 Botanical Oils.
Description
A nutrient-rich, nourishing & smoothing complex, specifically formulated with Rosa Mosqueta (20%), Argan and Evening Primrose Oils to soften the complexion and improve skin texture and elasticity.
Suitable for all skin types, especially for:¬
Mature/prematurely aged skin¬
Dry skin¬
Blemished skin¬
Uneven skin tone¬
Environmentally damaged skin
Includes
Rosa Mosqueta Rosehip Oil - A natural source of essential fatty acids and antioxidants to promote healthy skin cell regeneration and restore a soft and smooth complexion.
Argan Oil - A rich oil from the nuts of the argan shrub, with super conditioning Vitamins A & B to maintain elasticity and supple skin texture along with a high content of antioxidant Vitamin E.
Sunflower Oil - Rich in antioxidants and nourishing Vitamin E, Sunflower Oil helps to provide the skin with light yet effective nourishment, promoting a healthier skin texture.
Evening Primrose Oil - A rich source of GLA (Gamma Linolenic Acid) which helps soften the skin, promotes healthy skin cell formation and reduces moisture loss.
Free From
Parabens, Paraffin, SLS, Artificial colour and fragrance.
Made in the UK,
Suitable for Vegans
Benefits
Restore healthy complexion for brighter, rejuvenated skin.
Repair blemished or scarred skin (even old chickenpox or acne scars or post-surgery).

Smooth away wrinkles and fine lines.

Heal signs of UV-induced ageing and rosacea.

Nourish dry, dull skin.
To Use
Gently massage 3-4 drops into cleansed skin for 2-3 minutes, using circular movements to allow the restoring oils to be absorbed into the skin.
May be used alone or with your favourite moisturiser.
It is important to patch test if you think you may be sensitive to any ingredients used.
Avoid contact with eyes.
Store in a cool place away from sunlight.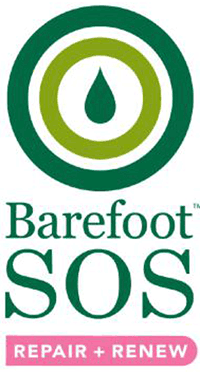 Barefoot SOS - Repair + Renew
With anti-ageing and skin-regenerating Rosa Mosqueta.
Vegan.
Cruelty Free.
Made in the UK.
Repair & Renew is based on the anti-ageing and skin-regenerating powers of Rosa Mosqueta, a super nourishing Rosehip Oil pressed from the seeds of a rose from the Chilean Andes.
This precious ingredient has beneficial effects on skin tone and elasticity, helping to improve the appearance of wrinkles thanks to its antioxidant and fatty acid content.
The products are suitable for all skin types, especially mature or dry skin.