Yoga & Meditation Balm
by Badger
| | |
| --- | --- |
| Size: | 17g wind-up stick |
| Ref: | BA-421 |
| Price: | £ 7.99 Out of Stock |
Centre and Balance.
With Cedarwood & Mandarin.
100% Natural & Certified Organic.
Description
Contains an ancient blend of ingredients to calm, centre & balance your Inner Badger. Now even easier to take on the go as it comes in a handy stick.
The scents of Sandalwood, Frankincense, and Myrrh are used in both Eastern and Western traditions to support the practice of meditation by inspiring a mood of reverence and calm centeredness.
Cedarwood sharpens the mind, and the citrus essential oils of Mandarin and Litsea Cubeba create a cheerful state of peaceful awareness.
The "base note" is from a blend of essential oils derived from the bark of the Cedarwood and Sandalwood trees, and CO2 extracts from the tree and root resins of the Frankincense and Vetivert.
Includes
Extra Virgin Olive Oil
Beeswax
Cedarwood
Sandalwood
Mandarin
Litsea Cubeba
Rosehip
Vetivert
Frankincense
Myrrh
Ginger
Calendula.
Benefits
Portable aromatherapy that is easy to carry and easy to use.
The sophisticated essential oil blend supports meditation practice by inspiring a mood of reverence and calm contentedness.
Softens and smoothes skin while balancing the psyche.
To Use
To Calm, Center & Balance just dab a little on temples or under nose, breathe it in, close your eyes and let it be.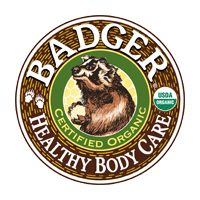 Organic Aromatherapy Mind Balms
100% Natural, totally good.
Soothe your skin & delight your mind.
These fabulously fragrant organic aromatherapy blends are convenient to carry & easy to use!
Badger Mind Balms are made from 100% Organic, All-Natural ingredients and can be applied anywhere on the body to help you experience their aromatherapy benefits. Application to the nose and lips is safe and effective.