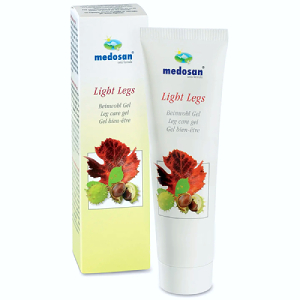 Key Info
Swiss Formula
Leg Care Gel
Description
Relieves aching legs and may strengthen the circulation and soothes swollen, heavy legs The cooling properties provide instant pain relief.
The mixture of carefully selected natural plant extracts have a refreshing, cooling effect while soothing the skin
Benefits
Relieves aching legs.
Strengthens the circulation and relaxes the calves.
Soothes swollen, heavy legs.
Cooling properties provides instant pain relief.
Suitable for varicose veins.
Contains 9 natural ingredients.
Includes
Red Vine leaf Extract, menthol, valuable ginkgo extracts, marigold, horse-chestnut, rosemary, orange peel oil, yarrow,
Free From
Parabens, mineral oil, colourants, perfumes.
To Use
Massage gently into legs and calves several times daily as needed.
Ingredients