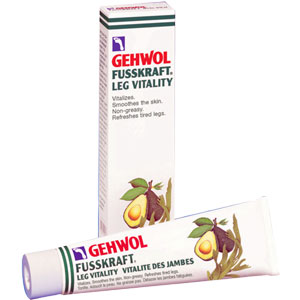 Key Info
Vitalizes.
Smoothes the skin.
Non-greasy.
Refreshes tired legs.
Description
Leg Vitality is a balm for the special daily care of legs and feet. It is quickly absorbed, pleasantly refreshing, and makes your skin beautiful.
A slight massage with Leg Vitality, and the ingredients are immediately absorbed by the skin and have a soothing effect on tired and heavy legs.
It also has a mild deodorising effect and reduces irritation.
Precious avocado oil, algae extracts, and vitamin E provide the special skin-friendly properties of Leg Vitality. Problem zones with dry and scaly skin are prevented; the moisture balance of the skin is considerably improved.
Allantoin and the chamomile component bisabolene support the caring properties and strengthen the mildly deodourising effect of the herbal agents.
Hamamelis an extract from the Virginian witch hazel bush soothes irritation and prevents wrinkles.
Benefits
- Natural strength for tired legs & feet
- Dermatologically Tested
- Suitable for diabetics
Includes
Avocado oil
Baldderwarck
Witch Hazel
Allantoin
Bisabolol,
Free From
Parabens, mineral oil, colourants.
To Use
Apply as often as required.
Ingredients
---
Product Comments & Customer Reviews
" GEHWOL is a great product. I have MS and the Gehwol vitality used first thing gets my legs working " SG, Coulsdon