Martha Hill Evening Primrose Moisturiser
---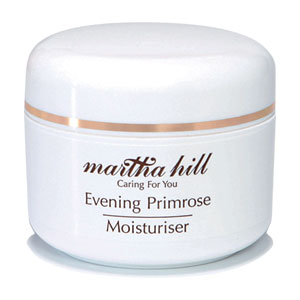 Key Info
Light day cream.
With avocado and rose geranium.
For dry, dehydrated, maturing complexions.
Description
This light daytime moisturiser has a delicate rose fragrance and is easily absorbed.
Recommended for daily use to smooth, soften and protect from dehydration.
The cool, soothing cream will calm minor irritations and reduce the damaging effects of climate and pollution.
Contains a perfectly balanced combination of natural plant oils and a low factor sunscreen for added daytime protection.
Includes
Oil of Evening Primrose
Avocado oil
Sesame oil
Vitamin A
Rose Geranium oil
Carrot oil
Low protection sun filter
Free From
Artificial colour and fragrance.
Cruelty free. Made in the UK.
To Use
Apply every morning to face and neck after cleansing. Re-apply during the day if skin feels dry or taut.
Ingredients
---
Product Comments & Customer Reviews
Martha Hill - Evening Primrose Moisturiser
" I have used the Evening Primrose Moisturiser for years. It is an excellent moisturiser. " WAB, Ross-On-Wye
" Just love this product. " SO, Kidderminster
" The very best moisturiser I have ever used. " SW, Fleet
" I love your products. I have used the moisturiser and night cream for over 40 years " JP, Kings Lynn
" Well satisfied with the Evening Primrose Moisturiser,been using it for about 25 years having recieved free sample via Yours Magazine. " M.D., Shaftesbury
" Have been using for years, most people remark on my skin. It is a really lovely cream, wouldn't use anything else " MAG, Cheltenham
" Yet another order for your fabulous EP moisturiser. I have been using it for YEARS and everyone says how young my skin looks! Brilliant product. " BG, Lymm
" Your Evening Primrose Moisturiser is just right for my mature skin. " JS, Castleford
" The Evening Primrose Moisturiser is the best I have ever used - skin feels wonderful all day. " J.O., Kilkenzie
" I have had Martha Hill products in the past - wonderful :) " CB, Northampton
" have been using your creams etc for a fair few years and would'nt be without it.Keeps my skin looking young for my age. Thankyou " GE, St Agnes
" Love this product and the prompt, efficient way it gets to me :-) " JC, Castle Cary
" Love the product. " MP, Solihull
" I simply love these products and have noticed a difference in my skin's appearance, thank you. " AA, Peterborough
" A lovely product, and my skin feels much better. " SE, Clevedon
" Love this stuff. " SG, Camberley
" Am loving the evening primrose moisturiser and nourishing cream. Seem to be perfect for my 50year old skin!!! " CA, Mauchline
" I think this cream is absolutely fabulous. " MNB, Nottingham
" This is the only Moisturiser I have tried that seems to hold make-up all day without shine. " E.F., Edinburgh
" This product is excellent, so glad I found it! " SMH, Crediton
" Lovely cream and always a great service. " SE, Inverurie
" Thank You - lovely product. " CJR, Stroud
" The Evening Primrose Cream is amazing.I have nearly finished my first jar and can see great results.My skin is softer and much improved. " C.A., Cheltenham
" Been using this cream for years. Nobody ever believes me when I tell them my age. I'm sure the two things are connected! " TS, Watford
" I absolutely love all your products especially the evening Primrose range and the service is excellent, a hug thank you to the wonderful staff. " CC, Bridgwater
" I ordered the free Evening Primrose Moisturiser through My Mail Rewards and congratulate you for the speedy delivery. I have to say that (I am 56) when I applied my foundation afterwards I absolutely noticed that my skin looked smoother and less age lined than usual! Fantastic product!! Will definitely re-order. " JM, Sevenoaks
" One of the best moisturisers I have ever used. " R. R. ST, Ives
" Primrose Moisturiser very soft and gentle " PR, Peterborough
" Martha Hill is excellent stuff. " CM, Stanmore
" Evening primrose moisturiser is very good. Like a product Body Shop stopped about 15 years ago. I'd been looking for something like it and this is it " CW, Par
" Have used this cream before, its a light moisturiser just right for my skin type. definitely would buy again. " CM, Bath
" love your product " MAM, Broadstairs
" Thank you for your wonderful moisturiser. " SO, Kidderminster
" Hi, my wife loves this product " SN, Prenton
" Love this cream and delivered very quickly. " CP, Newark
" I have been using this Moisturiser for years and have been more than satisfied. " M.A., Stranraer.
" I'm finding your face cream is ideal for my skin, as I age (am now 58) I need to use more moisturiser, so have ordered a larger size this time. " GN, Huddersfield
" Your Evening Primrose products are a permanent in my life. Just the best. Perfect for my 'funny' skin. Thank You " BJ, Croydon
" have used this before it`s a lovely cream which my skin absorbs rapidly Thank you I`m 77 and no wrinkles as I mosturise every day NO SOAP!! " EMB, York
" I've used evening primrose cream for a number of years and then I discovered this one, much cheaper than the one I'm used to but the quality is just as good if not better. You only need a tiny bit and it sinks straight into your skin with no greasy residue, will definitely buy again. " PB, Sheffield
" Having spent most of my life with such delicate and often sore skin, finding Evening Primrose Moisturiser was like a gift from heaven, and I have gone from sensitive, extremely dry, flaking, cracking skin, to having people tell me my skin looks flawless, or my complexion is beautiful. After over 30 years of that, I never tire of hearing such compliments, even though I do blush. I have to always say it wasn't a blessing from Mother Nature but a gift from Martha Hill! " , D.K.
" My skin is very, very sensitive but I can rely on the Evening Primrose range to do a wonderful job. I rely on this range & would be lost without it. " B.J., Croydon
" Love your Martha Hill moisturisers. " GB, Liverpool
" very prompt as always " JAN, Clevedon
" I have been using these two products for many years and am very pleased with the results over the period of time, excellent products and excellent value for money. " LH, Alcester
" I am now 78 and people endlessly say to me they don't believe it. I put it down to Martha Hill. " R, Reading
" The Evening Primrose is very good for my skin. I've been using it for years " BF, Preston
" Love this moisturiser " CP, Newark
" GREAT PRODUCT and all thanks to using a free sample. " MAM, Broadstairs
" - Fantastic face moisturiser! " IR, London
" I have tried many creams, some expensive, however the Evening Primrose is so easy to me, even on my eyes. Excellent! " AG, Leicester
" Wonderful products, don't know what I'd do without them. " BJ, Croydon
" I'm 91 now and have always used the Evening Primrose Moisturiser & Nourishing Cream. My skin is not bad at all. " ML, Tewkesbury
" I find it smooth and good to use, so I like it " AC, London
" Thank you. My order arrived safe and sound and I am as delighted as ever with the product. " CC, Belfast
" Have used this product for some years now, I'm 70 and my skin often has compliments, its an excellent product, far better than clinique, etc. " JK, Bridgend
" Love your Evening Primrose Moisturiser - my favourite. " AP, High Wycombe
" Thanks for these great products !! " PEJ, Lincoln
" I saw a big improvement in my dry skin after using the Evening Primrose Moisturiser & Nourishing Cream. It's a miracle to me after suffering with dryness for 10 years. " BG, Manchester
" I always come back to a product I can rely on. " LMH, Lincoln
" I swear by this product. It's very, very good. " JC, South Croydon
" Wonderful to have a product that actually works and is made of natural ingredients. Plus the added bonus of reasonable cost and a fast efficient service. Thank you. " S.G., Thirsk
" thank you for this product I wouldn't be without it! " MM, Taunton
" i love your Evening Primrose Moisturiser this is the 3rd time i have order i use every day " MW, Maidstone
" Lovely product! " ES, Cambridge
" I used to order Martha Hill products as a teenager and just rediscovered it again more than 30 years later and the cream brought back memories and still as lovely as ever! Very pleased and worth the price. " DG, Ipswich
" Always lovely products, so gentle for sensitive skin. " JB, Sutton
" The best product I've used,reasonable price,free & fast delivery. Thank you. " M. H., Devizes
" Great product moisturiser so will try 2 new products today " MAM, Broadstairs
" Love this product. Ideal for use under make up. Good value as lasts a long time. " ARH, Alresford
" Your moisturiser keeps my 81yr old face as smooth as a 'baby's bottom' ! " EV, Beaminster
" Can't live without this moisturiser, been using for years. " JC, South Croydon
" Always lovely products - I have been using the evening primrose for years " HK, Bridport
" the best cream in the world ! " CH, Crickhowell
" I have been looking for evening primrose moisturiser for my mother in law in all our shops but have been unable to find, so thank you very much for stocking. " PL, Norwich
" Fantastic cream !!!!!! " CH, Dumfries
" A tried and tested cream I always use " LMH, Lincoln
" My favourite, don't want to try any other product. " MH, Porthmadog
" I love these products and am spreading the news about them. " PR, Preston
" Love these products! " AF, Bruton
" Great product, I have used it for many years " HJ, Godalming
" The Evening Primrose Moisturiser is excellent. I couldn't do without it. " DH, Liverpool
" I foolishly tried a different make moisturiser and it stung my eyes so going back to Evening primrose which I have used for more years than I like to remember and I know is so good. " DH, Watford