Marseille Soap With Baking Soda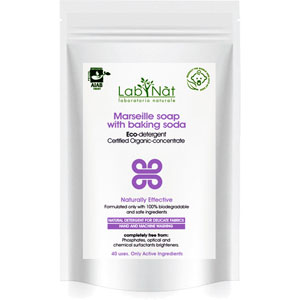 Key Info
For delicate fabrics.
Both machine & hand washing.
Natural, biodegradable powder.
Description
100% natural powder for delicate clothes including wool and silk.
The natural cleansing action gently removes dirt and grease. Use in your machine or for handwashing precious silks and woollens.
Sodium bicarbonate facilitates the degreasing action and provides anti-scale protection.
It can also be added to your usual detergent to increase the degreasing action.
Benefits
AIAB Certified
Anti-Allergy.
Only Natural & Mineral Ingredients.
Ecological
Concentrated
Free From
OPTICAL BRIGHTENERS
FORMALDEHYDE
BENZENE
BUTOXYETHANOL
To Use
500g provides 40 washes.
Product Comments & Customer Reviews
" I get great results with this detergent. Clothes are cleaner and softer with it. Thanks! " PAI, Peterborough
" I like the LabNat products as it appears to be economical and I like the ethics of the range. " JS, Fakenham
" This is wonderful stuff. " AB, Paisley