Waft Laundry Perfume - Sweet Orange
---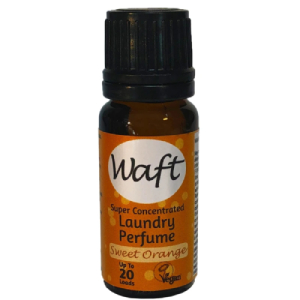 Key Info
Super concentrated.
Each 10ml bottle is enough for 20 washes!
Description
Waft Super Concentrated Laundry Perfume & Fabric Softener - is a unique product and a wonderful alternative to conventional fabric softeners and perfumes. This easy to store laundry perfume gives your clothes a fresh sweet scent of orange blossom and will have you reaching for it with every wash.
This combination of fragrance oils with plant-based emulsifiers makes your clothes smell wonderful and fresh.
Its super-concentrated formula means that it uses less plastic, creates less waste and so is good for the environment.
It is biodegradable and made with biological fermentation.
Fragrance oils create a lovely smell for your clothes and as they are concentrated, you only need a small amount.
Waft Super Concentrated Laundry Perfume can be used straight from the bottle as a laundry perfume or it can be transformed into a perfumed fabric softener.
Benefits
So concentrated that only 10-20 drops are needed per wash and so there is less waste, less plastic used.
Easy to transport and have a smaller carbon footprint.
Fragrances are essential oils and nature-identical fragrance oils to keep your laundry smelling amazing.
Free from cationic surfactants, phthalates or synthetic dyes.
Can also be used to fragrance water when washing the floor.
To Use
As a Laundry Perfume:
- Add 10-20 drops of Laundry Perfume to your laundry detergent for an added burst of fragrance. Wash as usual.
As a Perfumed Fabric Softener:
- Simply mix 10-20 drops of with up to 100ml of vinegar and pour into fabric softener compartment. Wash as usual.
Vinegar also descales the washing machine and boosts the colours of textiles! Scale can stick on the fibres of clothes that makes the colours greyish and the fabric hard. Vinegar can solve all these problems, just replace fabric softeners with it. Don't worry about the smell of vinegar: it will go away soon after washing.
Ingredients