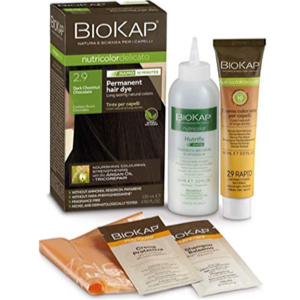 135ml
£9.75 was £13.29 (save 27%)
Catalog ref: BZ-290
Key Info
Long Lasting
Nourishing Colouring
Strengthening with Bio Argan Oil + Tricorepair
Suitable for Vegans
Description
the BioKap Nutricolor RAPID formula dyes your hair perfectly in just 10 minutes. Rich in botanical ingredients to nourish hair and Organic Argan Oil for extra shine, this hair dye deeply conditions while covering grey's perfectly and provides long lasting natural colour.
Formulated with Tricorepair complex and Organic Argan Oil. Tricorepair complex contains rice proteins with a restructuring and regenerating action similar to keratin, a willow extract that protects hair from UV rays and discoloration and fruit lipophilic acids that protect the scalp during the colour application and make it suitable even for the most delicate skin.
With its hydrating, emollient and protective action, argan oil deeply nourishes the hair, making it soft and shiny.
Rice Proteins- with a restructuring and regenerating action on the hair similar to the keratin.
Tridecyl salicylate- a willow derivative that protects the hair from the UV rays and prevent colour fading.
Lipophilic Fruit Acids - that protect the scalp during the colour application with a long-lasting effect, suitable also for the most delicate skins.
Organic Argan Oil: a nutritive oil that helps to prevent the dryness of the hair.
Panthenol: Vitamin B5 that provides moisture and protection to the hair.
BioKap Nutricolor Delicato Rapid is furthermore enriched with the exclusive Tricorepair complex and to strengthen and protect hair and scalp .
Benefits
Dermatologically tested and Nickel tested < 1 ppm.
With a leave-in time of just 10 MINUTES!
Includes
package contains:
tube of hair colouring cream 60 ml single dose
1 bottle of nutrifix colour revealer emulsion 60 ml single dose
1 sachet of after dye shampoo 15 ml single dose
1 Protective cream sachet for the hairline
1 instruction sheet
1 pair of disposable gloves
1 single-use protective cape
Free From
Formulated without paraphenylenediamines (PPD), ammonia, parabens, fragrance or resorcin.
To Use
Mix the content of the colour tube directly in the bottle, that allows the application straight on the hair thanks to its nozzle. insert the Nutrifix bottle in the hole outlined on the back of the packet to keep mixture upright. Leave in for 10 minutes.
Before using the product, carefully read the instructions on the package.
Always perform a sensitivity test 48 hours before each applicationp protection crème, gloves and shampoo sachet all included.
Ingredients
Product Comments & Customer Reviews
BioKap - Nutricolordelicato Permanent Hair Dye - Colour Chart
" excellent hair colour product " F, Stockport
" This hair colour product is fantastic " F, Stockport