Allergenics Non-Steroidal Emollient Cream
---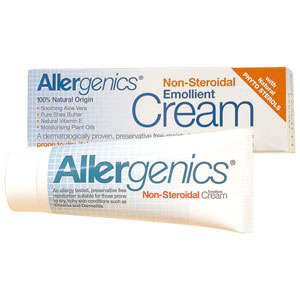 Allergenics
Non-Steroidal Emollient Cream
50ml tube
£6.99
Sorry, out of stock
(discontinued)
Catalog ref: AL-1003
Key Info
With natural plant sterols.
100% natural origin.
100% preservative free.
Description
A dermatologically proven, preservative free moisturiser suitable for those prone to dry, itchy skin conditions such as Eczema and Dermatitis.
Allergenics Cream is a nourishing and protective moisturising emollient for delicate skin, developed using hypoallergenic ingredients which significantly reduce the risk of allergic reaction.
More Information
Unique Allergenics Cream contains no preservatives. Dermatologists agree... preservatives are amongst the principle causes of sensitivity to skin care products. Allergenics moisturising emollient cream provides a safe, natural and preservative free alternative to regular dermatological skin care products.
Allergenics Cream provides soothing, anti-flare-up and protective action against external irritants thanks to the inclusion of functional ingredients such as Phytosterols, Borage Oil, Aloe Vera, Zinc Oxide and Glycyrrethnic Acid.

The highly effective, rich emollient action provided by Hyaluronic Acid, Rose Oil and Shea Butter, combined with Vitamin E to form a perfectly balanced cream that maintains the skins elasticity, and protects against external irritants... naturally.
Benefits
Hypo Allergenic. Dermatologically tested. Microbiologically tested.
Includes
Soothing Aloe Vera
Borage oil
Beeswax
Sweet Almond oil
Shea Butter
Rapeseed sterols
Rose oil
Vitamin E
To Use
Apply to cleansed skin as often as required.
Ingredients
---
Product Comments & Customer Reviews
Allergenics - Non-Steroidal Emollient Cream
" Cream amazing for my ezcema " LJ, Kings Lynn
" Allergenics is the only cream I have discovered that helps relieve discomfort from skin disorder for my husbands dry skin & dermatities due to diabetes. Wonderful product. Thank you. " AB, Sheffield
" Allegenics Cream - Brilliant - cured a terrible rash on my husbands lower arms which was incurable from prescription! " PN, Bedford
" I would just like to tell you that I have found your Allergenics Cream to be a wonderful cure. For some months I had a red itchy inflamed patch of skin on the front of both shins. I tried various products but after using the cream as more or less a 'last resort'. I was so pleased to find that with daily use over two weeks there was a noticeable improvement, and now the skin on both legs are back to normal after months of discomfort with the intense itching. " JB, Shoreham by Sea
" The Allergenics Body Lotion and Cream proved to be excellent - healing dry skin (prone to eczema) within a week whilst leaving skin smooth and not oily - highly recommended. " IS, Weston-Super-Mare
" My husband has found your Allergenics Cream he has used for a while, has helped the skin on his bald head. " MB, Shoreham by Sea