Ainsworths Emergency Cream
---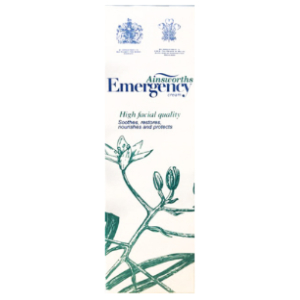 Key Info
High facial quality.
Soothes, Restores, Nourishes and Protects.
Pure and natural unique cream base.
With 9 Bach Flower Remedies.
Specially formulated and exclusive to Ainsworths
Description
A specially formulated high facial quality cream, containing natural anti-oxidants and a unique combination of nine Bach Flower Remedies.
Ideal as a restorative face and body moisturiser, being perfect for sensitive skin and babies, as the soothing, healing properties gently restore damaged, irritated, burnt or grazed skin.
Simply a pure blend of precious plant oils, carefully chosen to complement flower essences and restore, soothe, nourish and protect delicate or sensitive skin.
Includes
Created to comply with the principles and philosophy of Dr Edward Bach and made with his original Dr Bach Skin Formula.
The cream base includes:
Calendula.
Wheatgerm.
Aloe Vera.
Coconut Oil.
St Johns Wort.
Lemon Grass Oil
Plus Dr Bach Skin Formula Flower Infusions of
Cherry Plum.
Clemetis.
Crab Apple.
Impatiens.
Rock Rose.
Star Of Bethlehem.
Plus Bach Flower Protective Formula.
Flower Infusions of
Holly.
Pine.
Walnut.
Free From
Perfume, Preservatives, Colour, Petrochemicals.
Made in the UK.
To Use
Apply as required.
The handy little tube fits easily into a pocket or handbag, so you never need to be without this soothing remedy.
Safe for all the family to use.
Ingredients
---
Product Comments & Customer Reviews
" it is- excellent. " SC, Woodbridge
" So pleased that you are stocking emergency cream, thank you! " PW, Leatherhead