The Scented Home Scented Sachet - Jasmine and Tuberose
---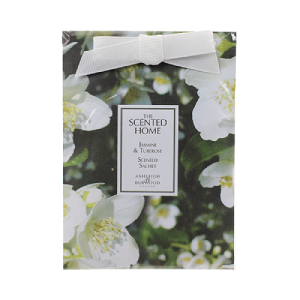 The Scented Home
Scented Sachet - Jasmine and Tuberose
£3.00
Add to Basket
Catalog ref: AB-SA21
Description
Create a burst of fragrance every time you open your drawers!
Use to add a gentle fragrance to linens and clothes or place in suitcases, drawers, wardrobes and cars to fragrance the air.
Each generous sized sachet includes a silk bow and ribbon to hang the sachet.
Sachet 6.5 x 4.8 inches
Choose From
Fresh Linen - Light, airy and wonderfully clean. This delightfully fresh, clean and uplifting fragrance evokes the scent of crisp white sheets billowing in a light breeze with subtle notes of aloe, frangipani, lavender and citrus.
Lavender & Bergamot - A simple classic bringing an air of rustic relaxation to the home. Soothing lavender and gentle citrus notes of bergamot are infused with creamy musks and soft amber.
Jasmine & Tuberose - A delicate, white garland of jasmine and tuberose beautifully harmonises with nuances of orange flower, carnation and ylang ylang. Opulent musk adds a subtle warmth to this powerful, heady floral.