Aloe Mouthwash - Citrus
by Organii
| | |
| --- | --- |
| Size: | 500ml bottle |
| Ref: | OI-080 |
| Price: | Sold Out |
Sorry, this product is no longer available.
Description
Organii Organic Mouthwash with aloe vera and a fruity citrus taste helps keep breath fresh and helps remove bad bacteria giving good oral hygiene.
The properties of Aloe Vera are anti-bacteria, anti-fungal, and anti-septic which are extremely helpful in protecting teeth and gums. Aloe vera helps to kill bacteria that may cause gum disease by preventing the build-up of plaque.
The citrus taste is from organic lemon, organic orange and grapefruit essentials oils to keep your mouth feeling fresh.
Used after brushing and flossing your teeth to help remove any plaque or food particles which brushing or flossing cannot reach or do by itself
Benefits
Fresh Breath
Mouthwash reaches the back of the mouth where a toothbrush or floss may not reach
Good oral health hygiene
Sugar free
Prevent plaque build-up
Reduce gum problems
Includes
Aloe Vera Gel
Lemon Oil
Grapefruit Oil
Orange Oil
Free From
Parabens, petrochemicals and sweeteners.
To Use
Shake well. Pour a small amount of Organii Organic mouthwash into the lid, swirl around the mouth and then spit out. Do not rinse your mouth.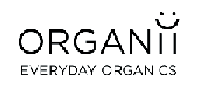 Organii
Natural and Organic Products certified by ECOCERT, ICEA and GOTS.
Nickel Tested.
Vegan.
Organii's mission is to offer the consumer good value products with high integrity.
Products are sourced from similarly minded, ethical manufacturers who share the passion for all things natural and organic.
Organii products must meet selected criteria including; effective formulas, value for money, products suitable for the whole family while looking good in any bathroom.
They also need to be certified natural and organic with conscientious packaging.