Bottle Wash
by Earth Friendly Products
Concentrated Washing Up Liquid.
For Baby Bottles & Utensils,
Fragrance Free.
Description
Baby Bottle Wash is formulated from plant-based ingredients to gently wash baby bottles, teats, bowls and utensils without leaving any chemical residues.
Baby Bottle Wash is concentrated, fragrance free and with a balanced pH so it is gentle on hands too.
Anyone with allergic reaction to conventional washing up liquids will also benefit from using this gentle wash as an alternative.
Free From
Contains no harsh anti-bacterial ingredients, but works on the principle of thoroughly removing dirt and bacteria with soap surfactant and water.¬ Formaldehyde¬Petrochemicals¬Phosphates¬Chlorine¬Ammonia¬1,4 Dioxane¬GMO's¬ Biodegradable and pH balanced.
Benefits
Earth Friendly Products supports Healthy Child Healthy World to create healthier environments for children. (Healthy Child Healthy World' a non-profit organisation with a mission to empower parents to take action and protect children from harmful chemicals)
To Use
Use just 5ml per bowl of washing-up!
Use as washing-up liquid.¬ Squirt approximately 5ml of baby Bottle wash into a 4 Litre bowl of warm water and wash Baby Bottles and utensils and rinse.
Alternatively squirt a small amount of Baby Bottle Wash directly onto a sponge or cloth and use as is to wash baby utensils and rinse.
This product is not a substitute for steam sterilising recommended for new borns.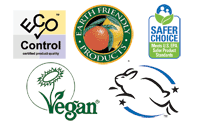 Earth Friendly
Natural Household Cleaners
Free from chemicals.