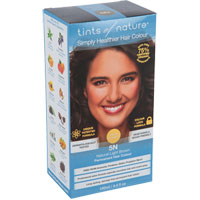 include discontinued items


Permanent Hair Colour
Colour your hair and cover up to 100% grey.
Free from ammonia, resorcinol and parabens.
In both natural & fashion shades.
Tints of Nature permanent hair colour is packed full of natural and organic ingredients that nourish and protect your hair to give you the best natural hair colour. And because your hair responds better to gentle, natural products you get happy, glossy hair with long-lasting colour locked in.
All Tints of Nature products are 100% free from ammonia, resorcinol and parabens so you won't breathe in nasty chemical fumes.
About
Tints of Nature is the healthier way to colour your hair using natural and certified organic ingredients for stunning salon-standard results.
These gentle and ethical products are made with a maximum of certified organic ingredients and a minimum of chemicals to create your happiest, healthiest coloured hair, ever.
Made In Britain
These lovely, naturally sweet-smelling products are manufactured here in the heart of the New Forest in Hampshire.