include discontinued items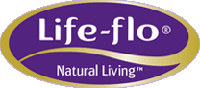 Life-flo
Founded in 1995, Life-flo provides you with the most advance natural products available.
They incorporate time-tested formulas with the latest discoveries and scientific advances to provide natural, scientifically formulated products.
About
Scientifically formulated
Natural, free of harsh chemicals (parabens), artificial colors and artificial fragrances.
Developed utilizing the latest research and cutting-edge technology.
Manufactured in their state-of-the-art facility.
Include select certified organic ingredients.
Eco-friendly and cruelty-free.
Packaged with consciousness: select creams use airtight, hygienically sealed pre-measured pumps.