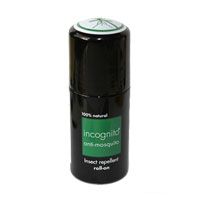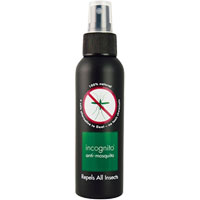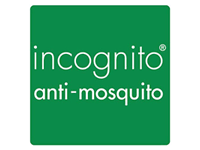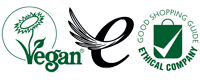 Incognito Insect Repellents
Certified as 100% natural.
Safe for all the family.
Clinically proven to protect against malaria.
Awarded the Queens Award for Industry 2015
Incognito spray is a strong mosquito repellent that is clinically proven to provide 100% protection against any mosquito.
It is stronger than any Deet product, and if used correctly, it is highly likely you will avoid mosquito bites!
It has taken over 10 years to develop, is a totally natural insect repellent, and is manufactured entirely in the UK.
It works simultaneously by repelling insects, including all mosquitoes (ticks, sandflies, wasps, fleas, bees, midges, gnats, etc.) and camouflaging your kairomones.
About Incognito
The new active ingredient in the repellent spray, eucalyptus maculata citriodora, has been rigorously tested under extreme conditions by one of the worlds' leading universities on African mosquitoes, and scored 100% efficacy in all tests.
This 100% record is supported by tests carried out in May 2011 by Insect Research & Development. These showed that even in intense laboratory conditions, incognito will offer the user 100% protection against Aedes Aegyptii mosquitoes (those responsible for the transmission of Dengue Fever which bite during the day). This means incognito offers 100% protection all day and night long.
Yet incognito mosquito repellent is certified as 100% natural and can be used by all the family including newborn babies.
Because of further research, funded by the Gates Malarial Partnership and published in the British Medical Journal, the active ingredient is clinically proven to protect against malaria when used in conjunction with an impregnated mosquito net. No other mosquito repellent has been authorised to make this claim.
All incognito manufactured products, including the mosquito repellent spray are certified as 100% natural. They are all completely free of any Deet, Paraban, GMO, SLS's.
What Are Kairomones
Just as humans are attracted to each others pheromones, insects are attracted to their hosts by kairomones – the ones mosquitoes are particularly partial to is carbon dioxide, lactic and carboxylic acids.
Kairomones are emitted by the body in proportion to the rate of metabolism. Therefore the more active, the more attractive a meal you are! Most kairomones can be detected by a female mosquito up to one kilometre away!