include discontinued items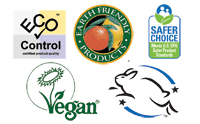 Ecos - Earth Friendly
'One by one we can change the world'.
There's clean, and then there's honest clean.
Earth Friendly Products was founded in 1993 with a simple mission: To provide high quality cleaning products that are absolutely safe for your family, your pets and the environment, made with replenishable ingredients.
In 2017 Earth Friendly Products proudly celebrated 50 years of creating environmentally friendly and sustainable cleaning & laundry products using thoughtfully sourced ingredients which are safer for people, pets and the planet. To mark the occasion, they changed their name to ECOS, the same as their best-selling laundry detergent. The ECOS range offers an effective clean, powered by plants at an affordable price. All products are positively free from formaldehyde & dyes, are readily biodegradable & easily recycled, as well as
About Earth Friendly Products
Earth Friendly Products give you honest-to-goodness products without toxins, petrochemicals, bleach, ammonia, phosphates or other harmful ingredients. The products are based on pure and simple ingredients including corn, coconut, citrus and other essential plant oils, and herbs. And because the products biodegrade quickly and completely, there is no environmental impact.
Earth Friendly are committed to providing convenient, alternative and effective choices in the selection of cleaning products, and encouraging the use of non-toxic cleaning products.
Earth Friendly Products is committed to the use of safe surfactants. In accordance with the Environmental Protection Agency's Safer Detergents Stewardship Initiative (SDSI), the products are readily biodegradable, non-toxic, free of NPE's, APE's, phosphates, and have a neutral pH. Because they are plant based and petroleum free, the surfactants do not bio-accumulate or mimic human hormones.
The Earth Friendly Pledge
"We pledge that our products are environmentally responsible, work well and provide value. We will never test on animals or use animal ingredients. We will conduct business in a socially responsible manner that safeguards the earth."