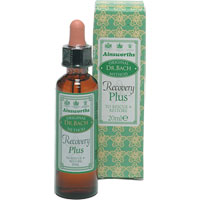 Recovery Plus.
For more than 25 years, Ainsworths have been manufacturing and supplying homeopathic remedies backed by a professional and caring service.
Homeopathy was discovered in 1790 by Dr Samuel Hahnemann, after a long search for a safe and effective means of curing his patients.
Additional Information
Recovery Plus.
Ainsworths Bach Recovery Remedies are made strictly in accordance with the directions of Dr Edward Bach. They harvest wild flowers in and around their country garden, chosen for its harmonious vibration and peaceful setting. Plants are isolated from all but the essential human contact and prepared by either the sun or boiling method as dictated by Dr Bach. Each plant is treated with great love and the entire procedure of preparation is a natural integration of plant vibration with that of spring water.
The mother essence is prepared with the finest brandy, emulating the founder, and final product is similarly the original strength of 1 part essence to 240 parts brandy (1:240). This allows the maximum strength of the essence to be produced for the consumer.