include discontinued items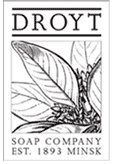 Droyt Soaps
All natural hand made soaps.
Soap company established 1893 in Minsk (Russia).
All Droyts soaps are carefully hand-made using the finest natural ingredients. These hard, clear soaps are created from Natural Oils and Vegetable Glycerine. The soap does not contain Parabens or animal derived ingredients.
Members of Greenpalm.org promoting sustainability in palm oil production.
History
The family firm of Droyt Products Ltd was founded in Minsk, Belarus, in 1893 under the name of 'The Victoria Fine Soap Works'. The business grew over the succeeding years and in 1913 a new factory was established in Saratov, on the banks of the Volga River. After the Russian Revolution, the company was forced to move and settled in Berlin. With a name change to Danico Glycerinseife Gesellschaft the firm was based in Germany until 1937, when it was again forced to move. A new home was made in England, in a former yarn mill in Chorley, Lancashire.