include discontinued items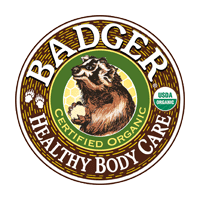 Soothing Balms
100% Natural, totally good.
USDA Certified Organic and petrolatum-free.
Presented in portable ointment tins.
The key to these super soothing balms is in the ingredients: Organic Extra Virgin Olive Oil and Beeswax. They are rich in natural ferments, enzymes, vitamin E, and essential fatty acids, which leave your skin feeling silky smooth. This simple combination of oil and wax is combined with naturally therapeutic essential oils.
Free of artificial ingredients, fragrances, dyes, parabens, GMOs, synthetics, or harsh ingredients.
About
Every ingredient used is grown and processed with the highest degree of respect for protecting the environment, the workers and the natural properties of the plants.
Nearly all of Badger's products are made from 100% USDA Certified Organic food grade ingredients.
They formulate simple, natural products using traditional methods and plant-based ingredients that have been gently extracted.